Time difference between Moscow and Khanty-Mansiysk: 2 hours
Geographic latitude: 61°00'
Geographic longitude: 69°01'



Additional Info
Mobile Operator Frequency
GSM 900


Voltage
220 V (50 Hz)


Meteo Statistics
Average Temperature in the Town
۫

Month   2001   2002     2003   2004
Nov     - 17   - 25     -18    -14
Dec	- 20   - 23     -9     -23



The weather forecast in Khanty-Mansiysk during The World Chess Cup 2005 is expected -13 -15. Detailed information you can find on the Web site www.gismeteo.ru/towns/23933.htm


Khanty-Mansiysk is a capital of Khanty-Mansiysk Autonomous Okrug. This nice and comfortable town, situated in taiga, reminds of Scandinavian resorts.
The town is situated in the Western Siberia, on Irtysh river (a port), only 15 km. away from a fall of Irtysh into Ob, 264 km west of railway station "Pyt'-Yah", 1076 km. north-east ofTyumen, 2759 km. north-east of Moscow. It is situated on seven treed hills and is very attractive for tourists.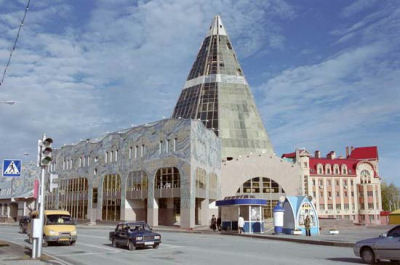 Trade Center

Nowadays, Khanty-Mansiysk is a civilized, comfortable town, providing all complex of social services that are necessary for a person of 21st century.
For one thing in the town an excellent international airport, where all types of modern planes can land, is working for several years. A flight on "Boeing" or on "Il" from Moscow to Khanty-Mansiysk takes 2 hours.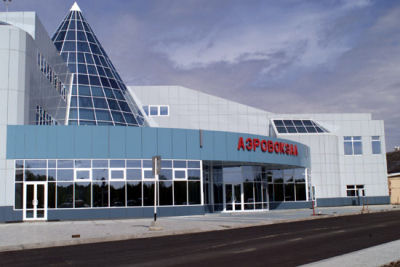 Airport

In the town a lot of modern autostrades are built. Modern hotels with the highest level of service that meets international standards were built for numerous guests of the town. All this gives to Khanty-Mansiysk a great opportunity to hold unique competitions such as Biathlon World Championship, the biggest international dramatic and musical festivals…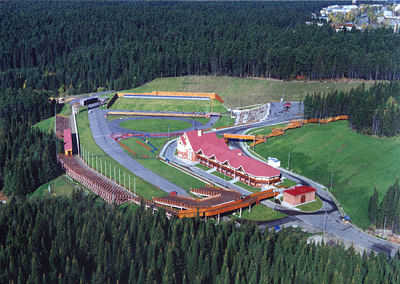 Biathlon Center

But nevertheless the most important fact is that in the middle of the ancient taiga a town with unique, even for 21st century, social infrastructure is flourishing: according to the decision of the authorities all industrial productions were moved out of the town. In and around the town taiga wood was cleared and put to an appropriate ecological state. In essence taiga wood became a national park of Siberia. Here in practice a rare combination of comfortable urbanism and ecological purity was created. Taiga spread for hundred kilometers to all parts from the town provides the existence of such unique that produces oxygen and absorbs waste of human activity. Nowadays a vast space of confluence of Ob and Irtysh is an example of ecologically civilized space that constitutes a part of the great Siberian national park.
Furthermore, the town, having received financial opportunities, admits – as the most important point in its development – exclusive priorities of the social sphere. The town exists and develops as a town of people, existing for people. And what is not insignificant, most of all these people are high educated: from 1000 people 958 people have high and secondary education. This number is higher than the average in Russia.
Investments in culture are great. These investments are notable for seriousness and purposefulness. In the centre of Khanty-Mansiysk a Centre of Arts, where the World Chess Cup will take place, is built. The Centre of Arts is a multifunctional building, a piece of modern international architecture. This Centre was designed and built not as a mythological ice house or as a "PURE ART". It is not a phantasmagoria of kingdom of art for art, the aim of which is to show unexacting ordinary life. Everything here is based on the reasonable, right, pragmatic and perspective idea. This Centre is fully given to children of the North and Siberia; a lot of gifted children live and study there. They study arts from scratch. Great musicians such as Spivakov, Bashmet come there give master-classes to the children. Management of MHAT and Bolshoj Theatre tells them about theatre art…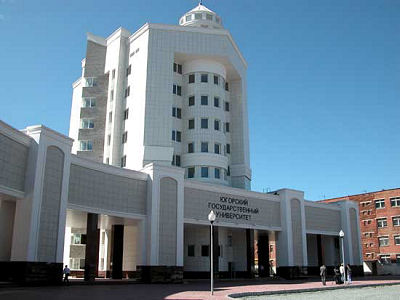 University

The town develops very fast and forms not only as a centre of oil region but as a centre of business activity, sport, national culture.
Modern living and administrative buildings, beautiful squares and streets, unique sport, cultural and educational facilities in a remarkable manner blend with Siberian nature. At some places woodlands coincide with residential block. It creates an admirable image of urban view.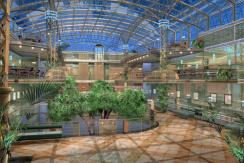 Atrium

At present Khanty-Mansiysk develops as a management centre of economy of the vast area with natural and recourse potential. Centers of information processing, of communication, financial institutions of Khanty-Mansiysk Autonomous Okrug are concentrated in this town.