Participants of the competition will be accommodated in the Wellness Hotel Centre "Ugorskaya Dolina".




Download entry for lodging reservation


This modern hotel complex is situated in the suburb on the bank of the river Gornaya (a confluent of the river Irtysh), 1.5 km. away from the airport, 15 min. away from the town centre. Beginning with the year 2005 the hotel complex works as a "Wellness-Hotel", proposing to the guests and citizens of the town unique services based on the natural Siberian components and thermal water for revival and health promotion.

We present you services rendered by the hotel complex "Ugorskaya Dolina":
Accommodation in 216 comfortable rooms of the international level:
61 rooms are "TWIN comfort", 16 "SGL econom" rooms,
53 "SGL Standard" rooms, 49 "SGL superior" rooms,
17 "TWIN Standard" rooms, 7 suites,
12 luxe rooms, 1 presidential apartment.
"Central" restaurant (for 100 persons)
"Dorozhnyj" restaurant (for 60 persons)
"Tayozhny toupik" restaurant (for 60 persons)
Lobby bar/caffeine, designed in the style of the French street cafe
Billiards includes 3 halls: Russian billiards Pool or American billiards
A separate hall with 12 feet table
Wellness centre (medical-diagnostic centre, fitness centre, beauty saloon, spa-saloon
Free of charge attendance of the fitness centre. A gym with all necessary equipment for keeping perfect fit. It works from 09.00 till 22.00
Free of charge attendance of the night club "Perekovka" (for 150 persons). Days of work: Thursday, Friday, Saturday, Sunday from 22.00 till 06.00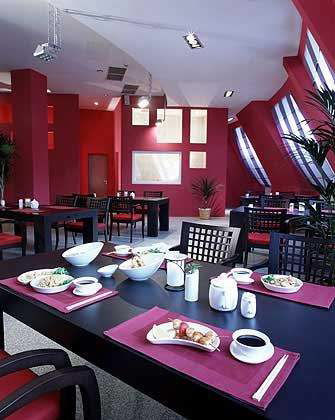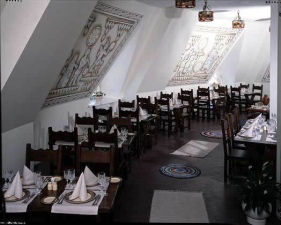 Hotel complex consists of 5 buildings:
Building "A" – "Atrium", "B" – "Babylon", "C" – "Continent", "C-1" – "President", "C-2" – "Econom") 4 (A, C, C-1, C-2) from which are living.
Building "B" – "Babylon" is administrative and entertaining: on the ground floor there is a reception desk (that works 24 hours a day), on the 1st floor there are restaurants "Central" and "Dorozhnyj", on the 2nd floor there are a restaurants "Tayozhny toupik" and a night club "Perecovka". In the passage between the buildings "A" and "B" there is a banquet VIP-hall for 20 persons.
In the building "A" –"Atrium" there are rooms, lobby-bar, Wellness-centre, conference hall.
In the buildings "Continent" and "President" there are rooms
In the passages between buildings "C" and "C-2" on the 1st floor there are a press conference hall, meeting room, negotiations hall, bar-billiards
In the building "C-2" – "Econom" there are rooms and a buffet.
In every building of the hotel there are information stands, containing all the information about time of work of all hotel services, information about the additional services, and entertaining events in the hotel. Such an information one can find in the lifts of the hotel and at the reception desk.


"Yugra Valley" Hotel accommodation rates:



Rates per night (RUR)
Rates per night (RUR)
Single room
Half board
Full board
Double occupancy
Half board
Full board
Single room "economy" SGLE
1780
2230
2680
-
-
-
"Standard" single room SGL
2180*
2630
3080
2680
3580
4480
"Improved" single room SGLSA
2480*
2930
3380
2980
3880
4780
"Suite" A half luxury
3580*
4030
4480
4080
4980
5880
Double occupancy Standard room TWN
3140*
3590
4040
3640
4540
5440
Luxury Suit "LUX"
4300*
4750
5200
4800
5700
6600
Double occupancy Economy comfort TWNS
950
1400
1850
1900
2800
3700
Breakfast (buffet) is included in the cost of accommodation

* - Services of a gym and a swimming pool in the Wellness-Centre are included in the cost of accommodation

VAT is included to all prices.

Please visit this web-site for more information.