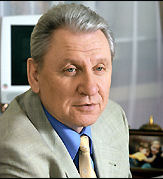 Dear friends!

I am sincerely glad to greet all the participants and guests of the World Chess Cup 2005 in the land of Ugra.
The World Chess Federation has reached an agreement with the leadership of the Khanty-Mansiysk Autonomous Region-Ugra in respect of the organization of the world chess competition in Khanty-Mansiysk with participation of Grand Masters of the planet. I am sure this event shall become the history of the world sport, will be a new impulse in the consolidation of the international cooperation.
High honor rendered Ugra is a bright confirmation of Okrug's success in the sport development. For the last years Khanty-Mansiysk Autonomous Okrug has gained the character of the large sport centre, that is experienced in conducting competitions of high level such as biathlon, skiing boxing, judo, sambo, volleyball and other popular sport disciplines. We are organizing the World Chess Cup 2005 for the first time and we hope that in the following we will try to develop the potential, to continue working on the conditions for qualitative training and professional advancement of talented and promising sportsmen, and to stimulate interest to playing chess of a large range of amateur.
I express appreciation the organizers of the competition, company's staff and organizations, which lend support to sport's development. I wish all the athletes of the World Chess Cup creative inspiration, success and brilliant win.

Governor of Khanty-Mansiysk
Autonomous Okrug - Ugra
Alexander Filipenko