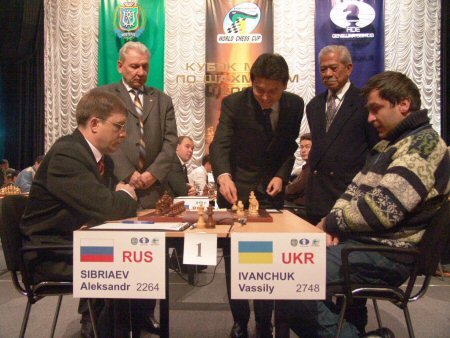 27 November 2005 at 3:00 pm local time the Governor of Khanty-Mansiysk Autonomous Region Alexander Filipenko and FIDE President Kirsan Ilyumzhinov made the first symbolic moves in a game Ivanchuk-Sibriaev. And just half an hour later they gave a press conference to the accredited journalists who had come to the World Cup.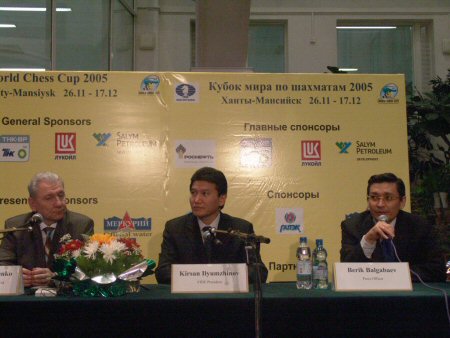 Kirsan Ilyumzhinov: Let me on the behalf of the leadership of the World Chess Federation to congratulate you all with the opening of the World Chess Cup in Khanty-Mansiysk. 128 participants from 48 countries are taking part in this competition. As for its composition, it is one of the strongest tournaments in the chess history; every participant from the top 20 could be a winner. It will be an exciting event and let the strongest win.
Let me on the behalf of FIDE thank the Directorate, the Government and the Governor of the Region Alexander Filipenko for giving us a possibility to organize and hold the World Chess Cup here. Several minutes earlier Alexander Filipenko and me began a game with the following moves 1. e2-e4 c7-c5. Now we are thinking whether to agree on a draw or to continue a struggle? (Laugh in the audience).

Alexander Filipenko: It seems to me that the formula, according to which the World Cup is being held, will not give hope to those participants who are ready to agree on a draw. On a chessboard one should fight till the end! I think that Kirsan and I will continue the game. A draw is out the question. We should move forward. Once again I want to thank FIDE for finding the possibilities to hold the World Cup in Khanty-Mansiysk. I have no doubt - we will justify this confidence. Yugra is hosting an event of such a level for the first time, but it has existing traditions, as the strongest in Russia Round-Robin International Tournament is taking place in Poikovski for 5 years already.
It seems to me that we create new traditions… Now we are negotiating the organization in Yugra a traditional tournament devoted to a memory of the Great Russian World Champion Alexander Alekhine. Soon people of the Region will play chess all day long.
Khanty-Mansiysk is considered to be a Russian Biathlon Capital, but we are interested in all range of sports life. For instance, yesterday in our town a Russian Youth Boxing Tournament ended. I am glad that Yugra boxers won 3 gold, 2 silver and several bronze medals. I don't think that our chessplayers will have such a success, but who knows… We will hope for the best. Let's speak about it 10 years from now.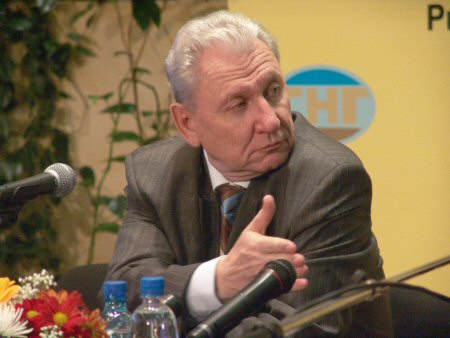 Q: Mr. Filipenko, what is your attitude to chess and who are your partners?

AF:As you have heard I already know 2 first moves. At the moment my grandsons want to be my partners, but to be sincere I avoid because the game is not a 5-minute business. But it is true that I play chess.

Q: Khanty-Mansiysk is a place of the winter sports. Why was a decision on holding here a chess tournament taken?

AF: : I do not agree with such an opinion. Let me remind you that 10 Yugra sportsmen participated in the last Summer Olympic Games. And for the area with 1% of all Russian population it is a good result. You are right that we should focus on winter sports but one can also play chess in winter...

Q: What are the organizing expenses for such great event? Is it held at the expense of the federal budget or the tournament has its own sponsors?

AF:It costs a lot. But all the financial matters are solved at the expenses of sponsors. While counting money we should bear in mind that if as the result of such competitions at least one new star appears, our investments will be paid!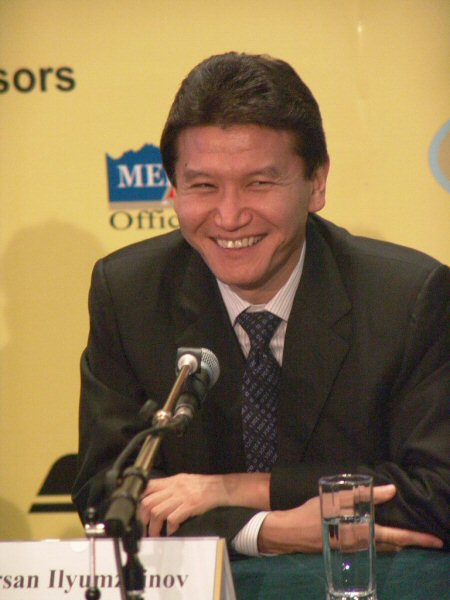 Q: Mr. Ilyumzhinov, have you ever been in Khanty-Mansiysk and what are your impressions of staying in the Region?

KI:Yesterday at the Opening Ceremony I said that our decision on hosting World Cup in Khanty-Mansiysk was not random, as for the last ten years the Region made great success in the social and economical spheres of life. I can state it from two points of view: as FIDE President and as the President of Kalmykia. FIDE holds a lot of tournaments all over the world so I can evaluate a level of the preparatory works made by the local organizers. As a head of the constituent entity of the Russian Federation I see a lot is being done for the development of the international sport and image of Khanty-Mansiysk on the international sports arena.

Q: What was the procedure of participants' qualification for the World Chess Cup? Did anyone refuse to participate?

AF:During last years we always have several candidates for every position! Of course there were some problems: here in Siberia air temperature could be -40 and even lower, and some participants have never seen snow in their lives. We have problems with snow, but we have arranged a special air temperature. The World Chess Cup will be held in two dimensions: here on the Art Centre stage and in the Internet! For three weeks Khanty-Mansiysk will be a new chess capital.

Q: I have never met any Kalmyk child who doesn't play chess. How did you manage to achieve such a popularization of the game in your republic?

KI:Several years ago we have signed a Decree on chess vocational class in all secondary schools of Kalmykia - from 1st till 10th forms. We already have a statistics: school results of those children who can play chess are 40% higher, and they have fewer records at Juvenile Delinquency Prevention Committee than those who do not play chess. Almost every month we host children chess tournaments. In Kalmykia chess became a popular game.

Q: Do you have any favorites among the participants? AF:I do have and more than one. My heart is tearing apart. But I am not going to tell you...

KI:We will support the only woman participating in the World Cup.

Q: Mr. Ilyumzhinov, you have been FIDE President for 10 years. How do you estimate the progress of FIDE during these years and what are your plans for future?

KI:FIDE activity is in public view so everyone can estimate it. What about plans for the future? As for cooperation with Khanty-Mansiysk Autonomous Region, in the next year we are planning to host here a memorial of Alexander Alekhine, the 4th World Champion.

AF: I would like to add that the local chess fans suggested this idea. We will only try to find its expression on the appropriate level!