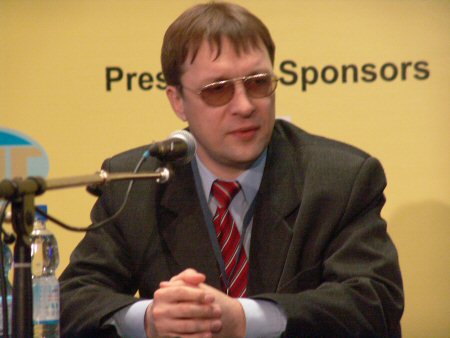 Alexander is the only FIDE Master in Khanty-Mansiysk. He got his diploma personally from the Governor of the Region and FIDE President on the day when the agreement to organize the 2005 World Chess Cup was reached.

Haven't the pairings depressed you – it is hard to play against Ivanchuk, the favorite, isn't it? How was the game?

AS:Of course it was difficult; I have not had the experience of playing against a GM of such high level. It adversely affected in the very first game playing black I did not manage to come out of the opening and lost disgracefully. Probably the preparation for that game gave its result today I have succeeded to make a draw with Vassily Mikhailovich. I believe that it is the best achievement in my chess life. It is great that I played against Ivanchuk but mainly I am happy that thanks to FIDE and the leadership of the region a tremendous festival was organized for chess fans. I saw many of my trainees (I am a coach in the chess society of the Children's Creative House) and I noticed that they looked inspired. Maybe they might use my to achieve more than me in the future.

– Especially after yesterdays' announcement that Governor Filippenko, Russian Chess Fed-eration and FIDE agreed to organize and hold an Alekhine Memorial Tournament in January...

AS:Talking about chess we bear in mind its three components: sport, science and art. I think that you have already got acquaintance with the town. It is young, a town of students. Everybody who was at the opening ceremony of the World Cup could appreciate the cultural development level of the local youth. I believe that it is exactly what we are to develop in our region.

– Can chess compete with the winter sports like biathlon?

AS:We do not compete with anyone! I think that we supplement other sports harmoniously. As for winter sports, we are in a better position: when there is a biting frost of minus 40 degrees outside and we are moving pieces in the warm and cozy surroundings.

– Do you have any other hobbies except chess?

AS:When I had good eyesight of course I tried myself sports. First of all skiing as I was born and grown up in Tyumen. Later on as most of the boys do I played football, basketball. I have been fond of tennis for the last several years. It is clear that any tournament especially such a big one requires serious training.

– What is your opinion on Ivanchuk as a chessplayer?

AS:First of all he is very sociable. During the game I felt no aggression from his side. He is a very honest sportsman and a prominent player!

– Have you already analyzed the game?

AS:He had caught a slight cold and because of it we did not come to analysis. I took his contact details for further communication and probable invitation for tournaments.

– Could you please tell us on your preparations for the tournament? Did anyone assist you?

AS:Yes, my achieved results are in many respects due to my coaches. They are my old friends: Andrey Obodchuk and Veniamin Sergeev. The only thing I regret of is that preparations took only 6 days. Maybe that is why I lost on the fist day – I did not guess the right opening

– It is hard to play in the local environment, isn't it?

AS:Precisely! Everybody watches your playing and I did not wish to disgrace myself. The tension was so great. Once lost, how would I look into other people's eyes? I believe that I can feel proud of myself after the today's game.

– What are you by profession?

AS:I am a historian, studied in the Tyumen State University. Nowadays I work in the job placement service of the town.