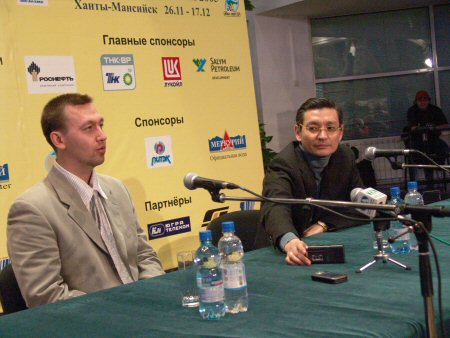 American Grandmaster Gata Kamsky is one of the mysterious persons in the modern chess history. Having played the World Chess Championship in 1996 he decided to quit playing. It seemed that forever- Kamsky studied medicine and then got the diploma of a lawyer. But: the first love is unforgettable and nine years since he is back to professional chess. Now he is not that prodigy who became famous not only by his moves but also his father's announcements, but he is a well-formed young man (Gata is 31 years old), having his own opinion on any issue.



GK: You may consider that one of the reasons is to take part in the competition. Spontaneously like this.

- You were planning to study medicine, weren't you?

GK: Yes, I was. Recently I have got the lawyer's license. I studied Law but since I play chess again I have not worked as a lawyer yet...

- What do you consider yourself? A professional chess player or a lawyer beginner?

GK: At the present moment I play chess.

- How do you like Khanty-Mansyisk? The weather is indulgent - it is not that cold...

GK: Coming from the USA I am of course unusually cold. It is too much snow for New York. I am in Khanty-Mansiysk for the first time and I like here...

- They say you have relatives in these regions?

GK: Yes, my coach and second Sabirov. He is my uncle besides.

- As far as we know your family status has changed in these years.

GK: Yes, I have a wife (she is from Russia too), one year and a half year ago our boy was born No, he does not speak Russian yet. I think that his first language will be English anyway.

- Eight years ago you left chess. Have you practiced all these years or you are back with the same knowledge?

GK: I have not opened any chess books for these years. I don't have chess pieces at home! I started to play last year. I came to the club, made up my mind to play and became keen on it. Nevertheless I played a lot of tournaments already, I am still getting back into shape. It is hard - much time has passed already. For these years chess has developed much. First of all, the opening theory, I have not noticed that middle game and end game are played in different...

- Don't you feel any psychological discomfort when playing on equal terms to those whom you could just give a show?

GK: No, I don't, even though I see that many people who previously did not know how to play at all nowadays do on a good level. I think that it is mostly due to computers. They play against the machine and make fewer mistakes. Generally the level of play has risen a lot for the past years. It is beyond any doubts.

- We see you frequently online playing in Internet, ICC site...

GK: You may consider it as my hobby. I like communicating and there are a lot of people there from different countries and continents - Europe, Asia or Australia. It is pleasant to play blitz from time to time.

- Are you planning to play in the Olympiad in Turin next year?

GK: I don't want to announce beforehand otherwise all will start preparing to play against me. I don't know yet. We will see. First I will play in Wijk aan Zee as I have signed the contract already.

- 10 years will have passed since your match with Karpov by the next year. Do you recollect that match after which you decided to stop your chess career?

GK: To tell the truth I don't like recollecting that time. There were too many political intrigues around the Match with Karpov. It was one of the reasons why I made up my mind to leave chess. I prefer not to talk about this issue. Recently FIDE is making efforts but it is advisable to avoid the situations when the regulations are changed after the cycle start.

- How ambitious are you and what are your expectations in this tournament?

GK: I will not think of it. It depends. We shall see what we shall see.

- But haven't you specified the task for yourself, the minimum that will satisfy you?

GK: Today I have played against one opponent; tomorrow will try to win another one and so on.