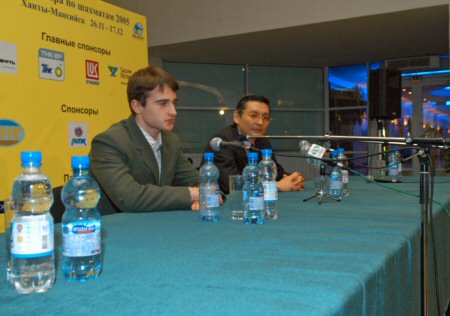 Ernesto is one of the most talented young Russian Grand Masters. His name is connected with a sequel of victory traditions of the Russian chess school. We would like to remind that he was the European Champion U-16, Russian Champion U-20.

– Frequently asked question to all participants: how do you like Khanty-Mansiysk?

EI: I am for the first time in this beautiful town. I had a walk around after the opening ceremony and I am delighted with what I had seen. I like the Alley of Sport Fame very much. The town itself is not big but modern, neat and cozy (especially I like modern buildings). I was impressed by the view of pine trees in snow.
I would also like to stress the excellent organization of the event. Regarding the playing hall it seemed to be big and noisy first but in the game process everything turned out to be just perfect.

– On the first day an Alekhine Memorial Tournament was announced to be organized and held in future. If you are invited, would you like to participate?

EI: Yes, I'd love to. I like here very much.

– Your opponent was the Ex-Champion Khalifman. You played against him in the Russian Championship in September and lost. What were your feelings after the announced pairings?

EI: I had ambivalent feelings. From one point of view he is a very strong opponent, he has brilliant results in knockout tournaments (he lost only to Anand and Lautier in the World Championships). From another point of view, provided the successful outcome I would have got a good start for further matches. Because to win against a weak opponent means nothing but to win Khalifman is a serious claim for the adequate result. Thus, I was pleased with the pairings even though it could seem strange.

– What are your plans for the nearest future?

EI: After Khanty-Mansiysk I start preparing for the session. I am the fifth-semester student of the school of economics in the Russian State Social University. After that the biggest Russian chess tournament Aeroflot Open will be held in February.

– There are many talks about the crisis in Russian chess, about the lack of young promising chess players. What is your opinion on this issue?

EI: Actually, my contemporaries and I are ironical about the statement regarding the crisis in Russian chess. Judging by my own experience I can declare that the competition is getting more intense. There are a lot of young players here who are highly competitive with well-known "stars" from other countries. I think that too little attention is paid to so-called PR technology, popularizing names. I consider it necessary to organize a unified state training system of chess players of different levels. At the same time any promising chess player requires an individual approach and a personal coach.

– And who are your coaches?

EI: My father taught me to play chess when I was five. But the first real coach of mine in Bish-kek where I used to live was Galina Leonidovna Otyutskaya. My present coach is Mark Israelvich Dvoretsky.

– Did you follow the Championship in San Luis?

EI: Yes, of course, I did. It was a spectacular and interesting tournament. I watched the games in Internet till very late in Moscow time, I just could not help watching them.

– What other sports do you go in for?

EI: I am fond of athletics, especially long-distance race and also martial arts.

– What position does chess take in your life?

EI: I try to treat it seriously and responsibly as my work. But my life is filled in with other aspects of human being including love.