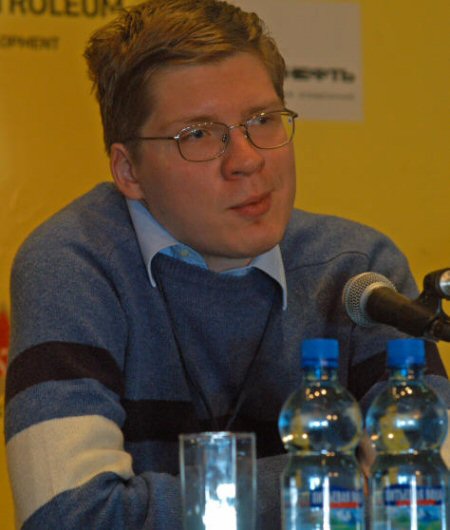 The Vice-Champion of Europe 2004, Vladimir Malakhov, doesnít require special introduction. There are more than one excellent result in his career, and not so long ago he had a rating of 2700. But he is interesting, first of all by that fact that he can hardly be called a chess professional - Vladimir grew up in a family of scientists, and like his parents he selected a scientific career. The simple question remains: is he a chess player or a scientist? The Moscowite cannot answer in himself.

- Is this your first time in Khanty-Mansiysk and what do you think about the organization?

VM: Yes its my first time. Before, I have been in this region in Poikovskii. Both here and there the atmosphere of Siberia is very pleasant for me. Accommodation, food - everything is good! The games are broadcasted on the Internet and I havenít noticed any defects. Iíd like to stay here for a little longer time.

- Yesterday at the Inarkievís press conference they started talking about crisis of the Russian chess...

VŐ: I would not say that there is a crisis. Despite some failures during the last two years (we didnít win the Olympiad, then almost failed in the World Team Championship), we still continue to hold the leading position. But, in my opinion, these failures are mainly connected with mistakes of trainers, of those who select the teams, and not to a general crisis in Russian chess. Itís clear that with Kramnik in our team it will be stronger, but even without him we can and should win all team tournaments in which we participate. Besides, there are many young promising chess players. Therefore I canít speak about any serious crisis in Russian chess.

- Can you name your favorite Russian team?

VŐ: I think the team that participated in the last World Team Championship, was almost ideal. At least five of the players, Svidler, Grishuck, Őorozevich, Bareev and Dreev I would pick to any team. A lot of GMs could compete for the last boards such as Zvyagintsev, Timofeev, Yakovenko and I. I do think it is necessary to have stable performing players in the team. In our team in Gotenborg, three of the six players were not in their best form Ė this was the reason for the poor result, and there was nobody to replace them.

- In the USA the team is selected based on the average rating for the last two years and if the player rights are violated, there can even be legal proceedings with the Federation. Why do we decide the structure of a team based on the opinion of trainerís councils?

VŐ: Personally I am in favor of a weighted system that is clear for everybody. Certainly the trainers have a right to have individual opinions about the players, but the selection of the team should be based on a system! At last, it is necessary for one trainer to have the personal responsibility for the result - and not only formally. This is how it was with Boris Naumovich Postovskii. Now we donít have such a trainer who will decide on the whole structure of the team for this or that tournament and who could guarantee a victory! In this case Russia would win four tournaments out of five, instead of, as itís now - one out of five.

- Two years ago you failed to perform in Poikovskii. Did you have any unpleasant emotions when you were going to this tournament? Poikovskii is rather close...

VŐ: There were some fears, but not too serious. Probably once a life everyone can score a "-6" result. I took comfort in the fact that in a knockout Ė tournament, itís impossible to lose more that in two games.

- You are pursued also with another fate: in "knockout" you donít go through the second round.

VŐ: I have participated in similar tournaments twice and both times Iíve failed because of my own faults. The first time I lost to Dreev in New-Deli and he was stronger than me. Last year in Tripoli I did everything possible not to reach the third round.

- How can you explain the great number of unexpected results in the first round?

VŐ: From 128 participants who have gathered here there were, likely, about 10 players who were objectively weaker compared to the rests - and all of them are out. In general the level of the games are almost equal, and if some of the games were won by the lower rated player in the first round, I donít see anything surprising in that. For example, in the first round I played a young Chinese, and up to the end I was not confident that Iíll play in the second round. Looking through the list of participants, I donít see anybody for whom itís possible to say with absolute confidence that he will easily pass to the next round, and especially will win the World Cup.

- Everyone knows that you are seriously engaged in science. How do you manage to combine it with professional chess?

VŐ: I should say that it is difficult to be engaged in serious science in Russia. This has to do with the level of salary and of material support in the country. I do not understand how it is possible to be seriously engaged under such conditions. And therefore I canít say that Iím ďseriously engagedĒ... Yes, I work in a laboratory of nuclear researches, but it is such a work that doesnít demand my constant attention and it is easy for me to take time off for chess trips. It would be difficult to survive only on the hundred dollar institute salary...

- Didnít you finish postgraduate study?

VŐ: No, after six years at the University, I thought itís enough study for me...

- So who are you then: the professional chess player working in the institute of Nuclear researches or the young scientist who tries to play chess?

VŐ: I havenít finally decided it yet. More likely Iím a chess player engaged in science.

- As a scientist and a chess player can you divide femaleís and male's logic?

VŐ: It is a difficult "scientific" question. If we judge according the chess (and the chess is a logic game), women play not so well as men Ė only Judith Polgar successfully plays on the top-level. If we speak about female logic, a jokes come to my mind: The man is asked: ę What is the probability of meeting an alien in the street? Ľ - The man answers "None at all". In reply to the same question, the woman answers: ď 50 to 50 Ė I might meet an alien and I might notĒ.