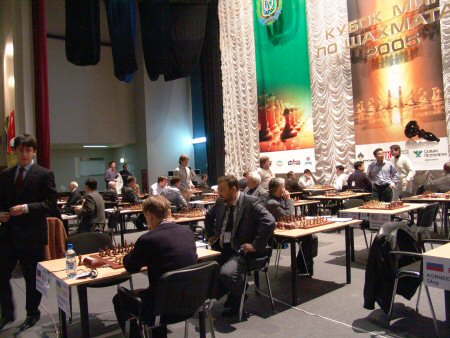 Like good students we make a list of the favorites before each tournament, which players we consider having the biggest chances of winning. We take into consideration not only ratings or in-formation of last games of the players, but also our "inner voice". It whispers doubt regarding the quality of one of the players, another player has problems playing with full strength when big money is involved, a third player...

But reality always makes surprises; sometimes they cannot be explained logically. Before the tournament nobody expected such great players as Ivanchuk and Khalifman to leave The World Cup in Khanty-Mansiysk after the second round, or that the double champion of the World Championship under 20, Mamedyarov, will not continue. We couldn't expect Ponomariov, Radjabov, Gelfand, Dreev, Rublevsky, Tiviakov, or Van Wely to move on only after big tie-breaks going trough series of mistakes before proving their right to continue. Tie-breaks don't leave much chance to weak players or mistakes.

But where there are misfortunes, there are also some discoveries and new names. The biggest of them all is of course Magnus Carlsen, the 15 years old player who celebrated his birthday during the tournament. But he is not a pleasant present to his opponents. Evgeniy Najer beat Mamedyarov in an equal position. Yuri Shulman fought until his last bullet against Zvjaginsev, then with Khalifman, both times successfully. In the end Murtas Kazhgalayev was only a step away from victory playing with Radjabov.

Again the number of participants is reduced by a half, now there are 32 players left!