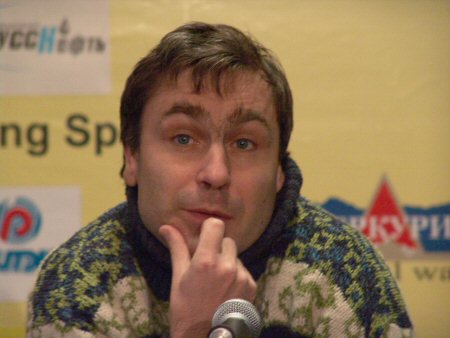 Vassily is irreplaceably lost for the 2005 World Cup. The highest rated participant is leaving Khanty-Mansiysk. We have to say thank you to this Ukrainian player for his willingness to answer journalistic questions right after losing to Ivan Cheparinov the Bulgarian player.

- First of all I would like to say thank you for a good organization of the tournament Ė Ivanchuk saysĖ the conditions for the players where ideal, I just wish Khanty-Mansiysk would have such chess tournaments more often.

- Many people were surprised about your absence on the opening ceremony.

- I can only apologize for that. The thing is that the day before flying to Khanty-Mansiysk, I got ill and had a high temperature. I even though whether it was sensible for me to take part in the tournament under such physical condition. In the end I decided to try. Unfortunately the illness not only didnít allow me to be at the opening ceremony, but also influenced on my result in the second round.

- Nevertheless, today you had all chances to beat the Bulgarian player.

- Yes, but I didnít use them, even though I was playing rather well. Cheparinov had a very strong defense and I didnít manage to find a fast wining combination. So everything was over after the first game of the round, where I was playing just very badly.

- May be Itís because of the tiredness, - you have been playing too much recently.

- I really need to take a break. From one side I am even glad loosing so fast. From another side I am sure that without health problems, I would have preformed better here at the World Cup. From a professional point of view I was really good prepared for the tournament. But it wasnít enough.

- Usually you are playing good in tie-breaks. For example in the Moscow World Cup, where you reached the final.

- And last year I managed to win a hard tie-break in a Mexican tournament. On the other hand, sometimes I loose in first round. Tie-breaks teach us to think about failures philosophically. If you loose there is nothing to worry about, there will be another tournament soon.

- Nevertheless, you lost your chance to take part in the next stage of the World Championship.

- I donít worry about that either. Well, I didnít loose the opportunity to play with the best chess players in the world. I already have contracts for tournaments in Wijk-an-Zee and Linares. Plus, as usual I will take part in the Monaco tournament. If I play good, I will automatically be able to take part in the next World Cup because of my high rating.

- It was also rather pity that you didnít participate at The World Championship Tournament 2005 in San Luis.

- Yes, some of my Ēwell-wishersĒ keep telling me that too. Meanwhile, first of all I was interested just in the chess side of this tournament. Although many strong players didnít take part, such as Gelfand, Bareev, Shirov, etc, at some point I became involved into the competition side of the Cup: rating, future tournament winner... It really interfered in my own chess. As a result I didnít perform well in two Scandinavian tournaments. In other words, I was wrong when I involved myself too much in the vanity of San Luis.

- It seems you are playing bad against Bulgarian chess players.

- Well, for example I have beaten Topalov in all competitions recently. Usually we only play together in the Monte-Carlo tournament, where I also have better results than him.

- Who do you think are the three best chess players nowadays?

- I donít see an evident leader at the moment. But to my mind Anand is doing great in rapid chess and Topalov in classical...

- What about Ivanchuk?

- Well, taking into consideration the results of the last year, in my opinion only two men can be nominated to chess Oscar Ė Anand and I. The result was that Anand was voted the best chess player in the world. As for me, I got only 7th place.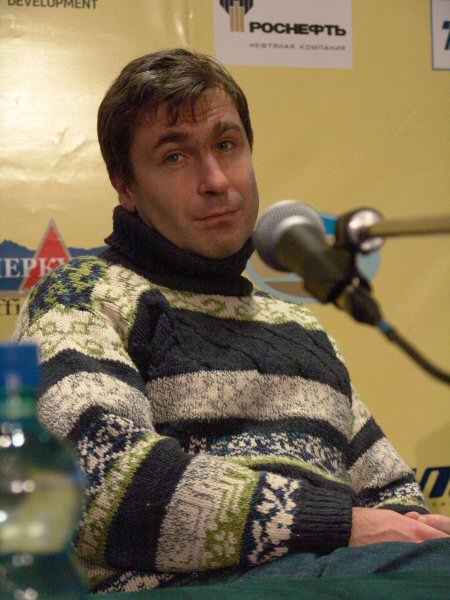 - What can you say about the failure of the Ukrainian team at The World Team Championship in Israel?

- Unfortunately, most of the Ukrainian chess players were saving their strength for this World Cup.

- Do you plan to write your book?

- It is a big question. I donít want to write a bad book. And writing good makes you open up to the readers personal information. That way you give a weapon to your enemies. I am afraid I am not ready yet. For example, some time ago I read a book by Vasiliev ďThe life of a chess player: about the 9th World Champion - Tigran Petrosian. Brilliant book, but if everything is true in this book, the author did some harm to his protagonist. He wrote about all sides of Petrosianís life. From that moment all weaknesses of Petrosian became clear to his opponents. I donít think Tigran Vartanovich won anything by publication of this book, and I think he lost a lot. So I donít want to become a writer yet.