The 14th champion of the World arrived full of ambitions. But he lost in the second round against American Yuri Schulman, even though he had a lot of chances.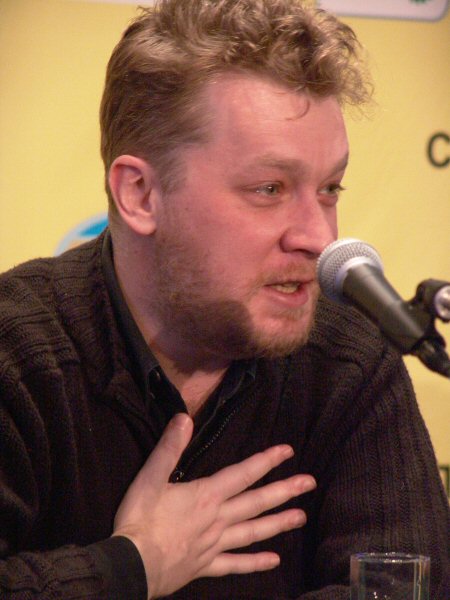 About the match against Yuri Schulman
- It is all about destiny Ė Khalifman said (he is already feeling fine after a badly defeat).- I understood that it wouldnítí be easy for me when I saw the results of the pairing. Can you imagine, playing against Ernesto Inarkiev in the first round. It's beyond all understanding how he could loose 40 points. It was already clear at that moment; somebody above didnít want me to play in Khanty-Mansiysk successfully. Because of this I had reasons to be happy when I beat Ernesto, that brilliant chess player with whom I connect to the future of Russian chess.
I cannot say anything against my second opponent. He was playing honest, looking for a chance even in the worst positions. But I was better in all games. Why didnít I get to the next round? I donít know. Destiny...

- It is amazing that you couldnít use your great experience in tie-break sessions. If I am not mistaken, before that you didnít loose to anybody in similar situations, except against Anand and Lautier.

- Maybe it is about my age. You can see, there are more and younger chess players now. That way, Cheparinov is playing against Carlsen and Khalifman goes home. So my experience at this tournament wasnít the main thing. I am a middle aged person with bad nerves and other disadvantages.

- Your match against Schulman finished with a sudden death. Was it sensible to choose white?

Yes of course. Is it better to play with blacks for draw? At that situation I had all the advantages on my hands. If I didnít start to play silly when I had a better position and two more minutes, someone else would have won the match. Taking into consideration what was happening in the final game, I would certainly loose playing with blacks.

- Did you count how many opportunities you had to win in this match?

- It is better not to talk about that. One more time I pay respect to Mr. Schulman he was fighting till the end. And my consciousness was in a parallel World in the most important moments.
About the World Cup.
Do you like it here in Khanty-Mansiysk?

- I thought it was a country town with rather old small houses. But in fact it is awesome to be here.
The city itself, and the place where we live is really nice. To say more I am delighted with this place. From this moment I will recommend everybody to participate at the local tournaments.

- Do you have any questions about the organization of the World Cup? - Only one, it is about the curriculum of the tournament. I donít know whether I should ask FIDE, the Russian Chess Federation or somebody else. But when two of the most important tournaments Ė the World Cup and the final of the Russian Championship, are very close in time, the players have a very difficult choice to do.

- Well it isnít FIDEs fault; they announced the information about the World Cup in the beginning of the year.

- Once more, I donít know whom to ask. But I suppose such respectful organizations as FIDE and RCF could synchronize their plans. They do one business, donít they?

- In your opinion, who will win the World Cup?

- I donít like to make prognoses. Also tie-breaks are nervous and unpredictable sessions. But talking about the process of game and energy, Alexander Grischuk is great. I cannot say he is an evident winner, but he is impressive.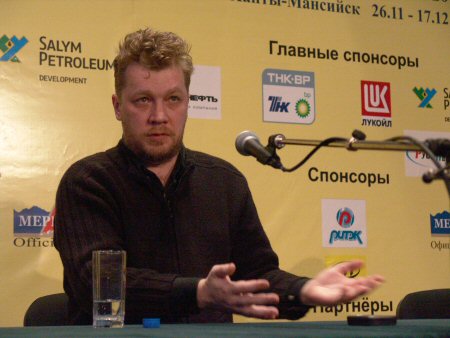 About the school and Saint-Petersburg
- Do you know that we are at the same latitude as Saint-Petersburg?

- Yes I know, but we have different frost. I am really lucky, poor guys who are staying till the end. They will taste some real Siberian winter. But latitude didnít help me a lot. I hope that Moscow geography brings me more luck.

- What can you say about your Saint-Petersburg chess school? Everything is great. We have just started its reconstruction. We will have an opportunity to invite guests from all over the World in good conditions. It is not so nice to say this, but I see one more advantage leaving the tournament. It gives me more time to do some stuff about the school.

- Are you a professional player or a professional organizer, or somebody else right now?

- Well I am sure about one thing: I do not see myself as a professional player. I will be forty in one month. It is high time to give up sport. Well, I will participate, but it will not be too serious for me. So I already see myself first of all as the head of a chess school and the author of bestsellers.

- What will you tell your students when you will be home?

- I will give them a good advice: retain your nerves from youth.
About match session against computers.
- What can you tell us about the tournament in Bilbao? As you remember three World champions Khalifman, Kazimdzhanov and Ponomariov were playing against three supercomputers.

- It was very useful as a training session before the World Cup. I was trying to play normal, not anti-computer games. That way I got three highly professional chess players as my opponents.

- There is an opinion that people should not play with computers...

- Why? Such tournament is a different genre, which should exist. The press keeps talking about the situation as if it will be impossible to win against computers. They say it will be the very end of chess. I donít understand them. For example even the best runner cannot run faster than a very small car. It doesnít mean that athletics is less interesting. I think we will come to such conditions when programs would play against each other in their own special tournament.

- How many years will it take before computers will achieve at such level that they will not play with humans anymore?

- Just a few...
About the Final of the Russian Championship?
- Your plans regarding the Final of the Russian Championship?

- I donít know if it makes sense to participate in the tournament, if I am not ready to fight for the first place. I also understand that it will be hard work. But to participate just to get for instance 50% score, is silly. It is better to pretend to be ill and not to participate. But it will be a classical chess tournament, so conditions should be ok. So I am serious about this tournament.