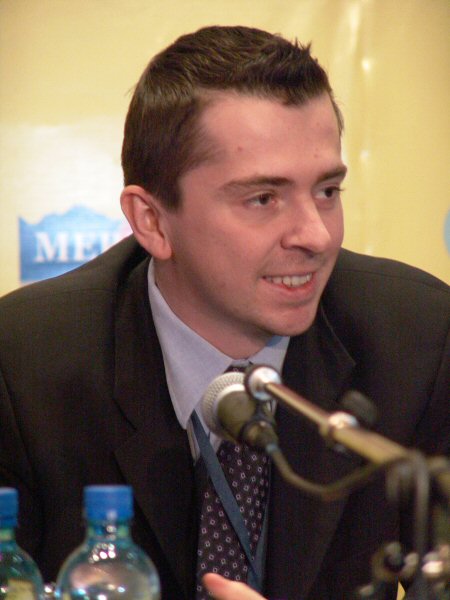 Alexander Onischuk is not a stranger to the Ugra region. He always participates in ďAnatoliy KarpovĒ tournaments. Onischuk and Bologan have the largest number of personal fans here; some of them came just to see a single game. Well it didnít help Alex and Viorel - they lost in the second round. Despite this, we still consider them really good players.

- You are a regular participant in the Poikovskiy tournament. How do you like to be here in Khanty-Mansiysk? What can you say about the organizational side of the World Cup?

- Yes, I didnít miss any tournaments in Poikovskiy and there were six of them. It is always a pleasure to come to Siberia. I wasnít surprised when I learnt that there would be the World Cup in Khanty-Mansiysk. There are good chess traditions here already, so I was coming in a good mood. Generally I liked the organization. Everything is fine, everything is at a high level.

- How many times did you participate in knockout format tournaments?

- Before this tournament only once? And I didnít get far. This tournament is no different.

- Some players choose a rapid game strategy in such tournaments. Are you one of them?

- No, I didnít take into account rapid game strategy, it just happened. The fact is that everybody tries to win a game as fast as is it possible. Maybe you have this opinion because of Radjabovís tactics in Tripoly. He is young, he likes blitz, so he tries to do it in every match. And it works, Teimur reached a semifinal level.

- You were the second highest rated in playersí list in Ukraine right after Ivanchuk, then you moved to the USA, and you head a national team right now. How did it influence your game?

- Well I am doing well. At the Calvia Olympiad and the World Team Championship in Beer-Sheva I was given the honour of playing on the first board. In fact I justified hopes. I had more than 20 games, and I lost only a few times. That is very important because people look up to a leader, and they compare their games with the leaderís one.

- Nakamura has started to play recently, and it seems that Kamsky has come back to chess. What can you say about this?

- Well Kamsky returning was a rather pleasant surprise. If he plays for the USA team, it will be great. And I would feel more confident myself, playing on the first board. But at this moment I think he is not ready for the new conditions, he is playing old chess. But he has potential, he can play very well. If he works hard and concentrates on chess, he will come back to the top 10 players list.

- We would like to ask you about Nakamura. He is a strong chess player, but he is really unsociable...

- No question that he is a real talent. Of course he makes some mistakes; there is a lack of Soviet Union chess school education. And I cannot say anything about his social qualities, he is a nice, good fellow, but I have not communicated with him much.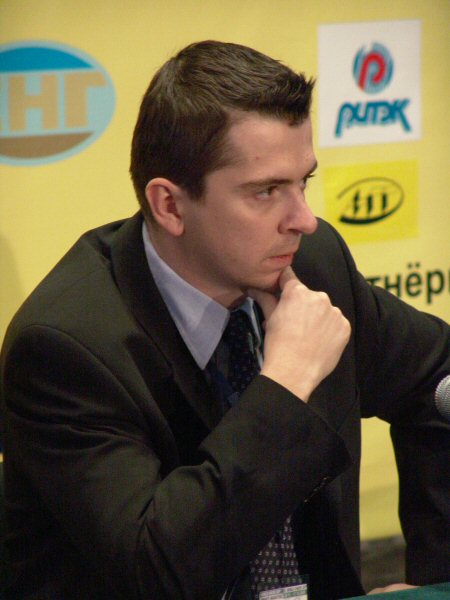 - You have started to play for the USA team, but not straight after moving to the country. Why?

- Well until recently the US Chess Federation had a restriction that you can participate at the national tournaments or play with a team only after being in the USA for 3 years. It was really hard for me at first. But now the restriction has changed, you can participate in all national tournaments any time. To tell the truth I donít understand why they needed such restriction.

- Where do you live now?

- I live in Baltimore, I study in a local university, and we have a good chess program there. I play for university team and I get an American education.

- Is it very different from Russian?

- I have been studying in Crimea and Moscow, so I can compare. There are some similar parts, but in general it is different. But the knowledge I had helped me a lot.

- What do you study?

- I study languages and linguistic. German, of course English and Russian...

- Most of the chess players that moved to the USA, sooner or later start to give lessons and make a living that way. Is it by chance, or is it a way to survive?

- This is a correct observation. Many of our chess players become personal trainers, or even chess teachers. But I hope I will have another future. I havenít trained anybody yet. The future deepens on FIDE too; I hope I will be able to earn enough in the years to come playing at tournaments. This World Cup and San Luis championship show that there is a good trend.

- Do you think Topalov is a real champion?

- Many people ask me the same question and I donít have any difficulties in answering. First time for a long time that there are no doubts about this question. Topalov is a real champion.

- What can you say about a Russian team victory at the World Team Championship?

- The Soviet chess school is still the strongest in the World! Just look at Ukraine, Israel, and Azerbaijan and the USA teams. We are different ages (I am 32 and I am the youngest in my team). They say there is a crisis in Russian chess, well, I donít see it. I see the development of childrenís chess in Russia. Your teams win tournaments: The Tomsk Team is European champions; The Russian Team is World Team champions. I was very glad when your lads beat the China team.

- What are your future plans?

- I participate in a Mexican tournament, then the USA championship, after that the Poikovskiy tournament. Then after a small break in a couple months I will participate in the Turin Olympiad.

- Are you going to take part in Aeroflot Open?

- I am not going to play in Moscow because after it I will have to fly straight to Mexico, so there would be four tournaments in a row. It is very hard for me.