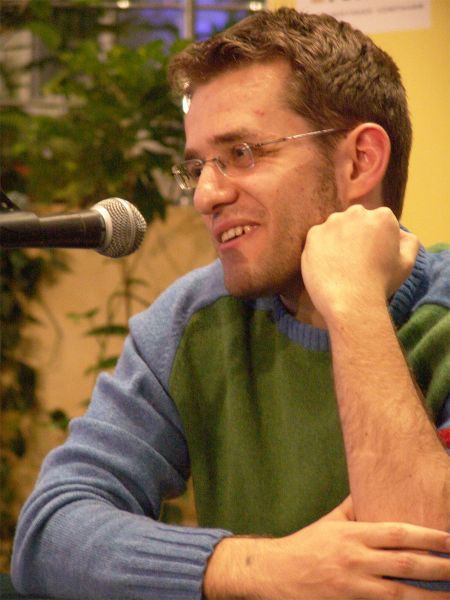 Armenian GM, Levon Aronian, is one of the greatest players on the World Cup, together with Carlsen is the most interesting figure for everybody. But if all follows the games of 15-years old Norwegian with surprise and admiration - for how long will he go on Ė the Aronianís successes are not surprising for anybody for a long time. During the last year Levon came into the first World ten top and is not going to stop on it. The same is in Khanty- Mansiysk Ė he won first five games and only the sixth was played draw. Aronian who easily agreed to take part in a conference charmed the public with his sincere answers and laugh...

Ė Share your impressions, how is it for you to play here on the World Cup?

LA: The game is still going successfully! I like it here: good organization, we play place and live in the nice places. Everything is greatÖ In general from the chess point of view I performed the game of not a really high quality Ė I won the games because of the luck.

Ė For how much is the chess the unpredictable kind of sport?

LA: Generally, the Psychology is playing a great role in chess. Something that is hard to understand happens but in fact everything can be easily explained: for example, a person had a bad sleep or food and then he had a bad game. Absolutely everything can influence the game.

Ė According to your game you sleep and eat wellÖ

LA: Yes, everything is great! But yesterday I woke up only at 20 past 2 and I had only 10 minutes for getting ready. I even didnít eatÖ

Ė But the result is the same Ė a victory!

LA: I wouldnít compare myself with a computer. I can only say that I count rather quickly and this differ me from other players. What else? Iím always self assured and try to win, I always have this ''fighter spirit''.

Ė And what about the style?

LA: I donít think that I have any special style, I play usually.

Ė Do you have a special attitude towards chess?

LA: I like to play very much and I try to look assured, sometimes I feel really bad when I play no so successfully but I try not to show that, and of course I get nervous.

Ė You managed to raise your rating almost not playing in big tournamentsÖ

LA: Itís clear that itís easier to raise rating when you donít play in opens. And future invitations (I hope Iíll get them) will show either Iím good enough for such a rating or no.

Ė Do you believe in yourself?

LA: I tell you Ė Iím lucky hereÖ

Ė Lately there was a Sadvakasovís conference which at one moment turned into Aronian-show. Your weak and strong points were discussed. The conclusion was that Aronian plays as well as a good computer.

LA: Yes, how else? Thatís why I think that my main games are still ahead.

Ė When did you start playing chess? And who was your first teacher?

LA: I started to play when I was on my fatherís motherland in Byelorussia. The older sister taught me to play... I was fond of chess but when we came back to Armenia parents brought me to a chess school where I was seriously taught.

Ė Did your sister play well?

LA: When I played in tournaments for the third... she also came to the club, and began to move figures. But... she doesnít really like chess though her husband is a chess amateur. He can sit on Internet during the hours and to play blitz.

Ė Did you have favorite chess players in the childhood.

LA: Iíve always liked the book ď50 unforgettable gamesĒ by Bent Larsen, Iíve read it for many times. From the players of the past I like Stein very much. But Fisher, in spite of that I consider him to be the greatest player of present time, seems a little borried.

Ė What impression do you have having read Kasparovís books?

LA: I donít really like this book. I like fiction and I like chess book if there is fiction in it too. This book is for people who are really interested in the chess analysis and want to find the nuclear in the game. I am not interesting in that...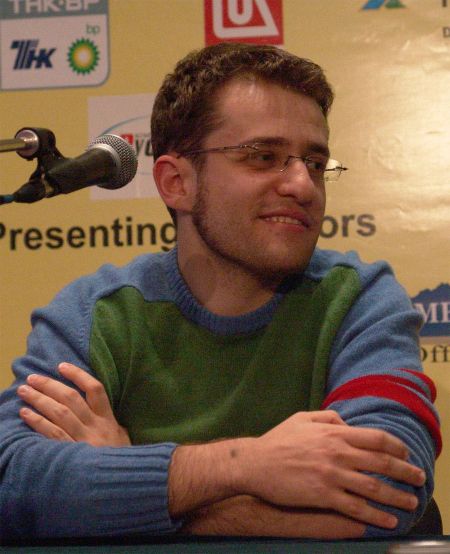 Ė What rating will you have by the first of January?

LA: I donít know, if the tournament "1 Stepanakert" is counted, then it will be about 2729.

Ė How did you appear on the very top so suddenly?.. Where were you before?

LA: This question was asked by Kasimdzhanov once: I had rating 2520 and he Ė 2700. We played the game and I won rather surely. I played before not bad too (Levon is the World Champion ďunder20Ē and of some other tonaments), and now when Iím in the city with my family Iíve found piece and started to play with confidence.

Ė When will you get the family of your own?

LA: Iím not in a hurry with the marriage, my father got acquainted with my mother when he was 28.

Ė You live in Germany and itís interesting what links with the motherland are left?

LA: I live in Germany but that fact that after the finishing of the tournament Iím going to Armenia to my friends speaks about something. Iím in a close connection with Armenia, it often happens that my friends come to Berlin to me. To get engaged or just for visit.

Ė How many languages do you speak except of Russian and Armenian?

LA: I donít even speak German I only understand it. I can speak English and German, watch films but I speak really well only Russian...

Ė What games of World Cup impressed you more?

LA: I canít say that I followed other games attentively. I always watch games of my friends or of those people whose play I like.

Ė And whose play do you like?

LA: Gelfandís, Mamedyarovís, Sasikiranís. The first two are already out of the World Cup thatís why Iíll follow the Borisís games.I hope that after Ií watch the games of this tournament Iíll like someoneís else style...

Ė Itís funny, Mamedyarov is younger than you are!

LA: Why canít you like the game of a person who is younger?

Ė Are you superstitious? Do you believe in signs?

LA: No, Iíve never believed in any signs and Iíve never performed any ďritualsĒ.

Ė What do you about San-Luis results?

LA: Iím glad that such an aggressive player as Topalov took there the first place. I always like such a fateís turns when such aggressors come to the place of calm players.

Ė Then from what type are you?

LA: Generally, Friends call me a chip tactician and itís not far from the truth. I try to play for the victory when I need itÖ

Ė So, does it mean that you are a favorite of the tournament?

LA: No, Iím very far from such thoughts.