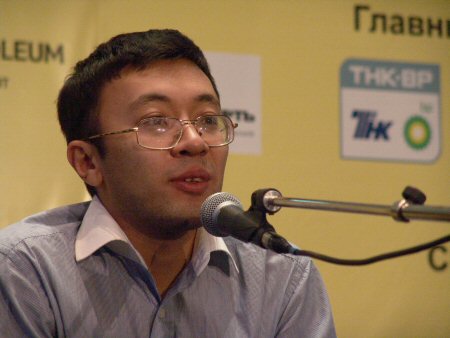 The Kazakh chess player participated at this kind of tournament for the first time. Nevertheless he was playing great, and he might become the sensation of the second round.

-Before the tournament I was mainly preparing to play with my first opponent Ė Evgeniy Alekseev, - Murtaz said Ė Evgeniy is a strong player, he is one of the brightest representatives of a new chess generation Ė So there wasnít any sense to plan future games, first I had to beat this very dangerous opponent. I managed to do that and it was easier than I expected. The match against Radjabov was very interesting. It was a surprise for everybody that I won the first game, playing with black, but I couldnít keep this advantage. Next day I played badly and I not only wasted the advantage of the first day but also lost a chance of a draw. It is a pity of course, but I didnít suffer too much about my performance in Khanty-Mansiysk. Quite the contrary, I was glad that was no differences in chess between me and such a great acknowledged player as Teimur.

In your opinion, what are the strong and weak points in Radjabovís performance?

MK: He is very dangerous in positions where you have to use initiative. But speaking from other point of view, he has to work hard to become a champion. To my mind, he has to work more on openings. I have noticed that he is not always ready to play in some critical positions. Also there are problems in strategy.

Did you come here with your personal trainer?

MK: My French friend, a FIDE Master, helped me, but in general it was psychological help. It is known that you cannot learn to play better during just one tournament. I also want to say thank you to my old friend Ė Vladislav Tkachev. His consultations are invaluable to me.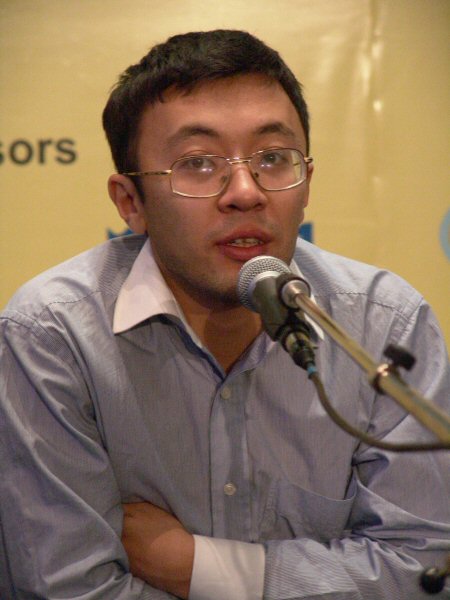 You represent Kazakhstan at this tournament, but you spend most time in FranceÖ

MK:I have been in France for more than 4 years, I played for Cannes chess club, and then I trained a childrenís team. Then I moved to Paris, where I taught young players and participated in some tournaments. I can say I took part in the chess development in this particular country.

There are a lot of ex-soviet chess players in this country.

MK:Because of that there is a progress among local chess players. On the other hand Russian chess players donít forget their motherland, and if they have an opportunity they visit Russia. I have good relationships with Boris Spasskiy and Anatoliy Vaiser. They are doing well in France, and they also often come to Russia to take part in local chess life.

What can you say about mysterious madam Ojjeh, she is a sponsor of the leading French club NAO Chess?

MK:Madam Ojjeh has a team that won two successive European Cups. Itself it is already a huge contribution to French chess development. Besides this she is a sponsor of a chess club, which is situated in the center of Paris. That is all that she is doing right now, but she could do moreÖ

What are your impressions about the Championship in Ugra region?

MK:I was pleasantly shocked by the opening ceremony. It is good that there are such regions in Russia. I was amazed by the hospitality when I came here. I stayed in Ugra hotel for the first night so I can speak of the beauty of Khanty-Mansiysk town. I am sure this is a common opinion among all the participants. The organization is great. So I am glad that I had a chance to take part in the World Cup in such a wonderful place and I will tell about my impressions to my friends in Kazakhstan and France.

What can you wish to organizers of a championship?

They donít need my advice, but there should be some more tournaments here, not just one. Four local players participated in the tournament. It seems Khanty-Mansiysk autonomus okrug has big potential for chess development. And the plans are clear. They should invite some experienced trainers from Moscow or other Russian regions to build a chess school here to train people from beginners to high level grand masters. Also they should hold some more tournaments here annually.