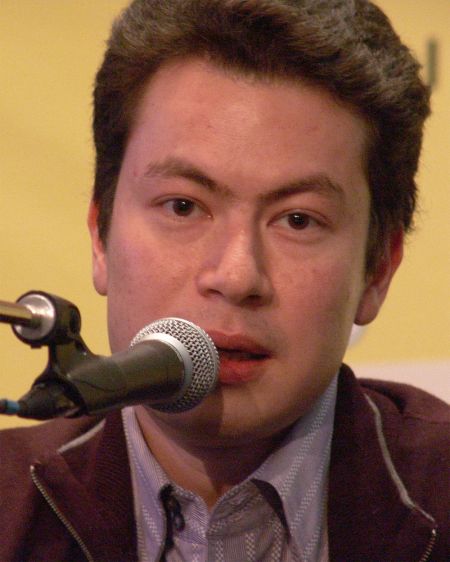 French Joel Lautier is one of the strongest chess players in the World. Besides that he is the head of the Association of Chess Professionals. At the press conference he made a sensation announcement that he was going to leave chess in recent time and do some more interesting and important things.

JL: Please note that that I am one of those people who say goodbye for too long but do not leave. That means I am not ready, for example like Kasparov, to make a final announcement about the end of my chess career. I am going to play recent years from time to time (several tournaments a year), but the same time I will spend most of the time doing other things. I'm interested in many things beyond chess. For example, business, and not only in chess. I have been doing a lot about organization of tournaments recently. Last year I was in charge of match Kramnik – Leko, this year I organized "Golden Blitz" tournament in Moscow. That tournament was very successful and was showed live on NTV plus channel during 15 hours. Work at such business projects takes a lot of time; it is hard to combine it with professional performances.

– Are you going to run for Presidency at ACP?

JL: No, it is a moral question. It is wrong to be an organizer and a player at the same time. There can be a situation when these two personalities will conflict with each other. That is why I decided to resign. Association is going great, and new management will work ok without me.

– What do you think about future cooperation between the Association and the FIDE?

JL: It is good that this cooperation exists. There are some difficulties, but everything develops well.

– Many years chess is trying to get to the television. You have a successful experience in this sphere. How did you manage get so much broadcast time for ''Golden Blitz''?

JL: There should be some serious work with sponsors. Nobody before us believed that chess could be spectacular. Everybody got used that programs about chess are interesting only for those who knew all the details. A match analyses, some variants, some results – that is all we had in a past. If you don't play chess, you would certainly switch to another channel. We tried to show that a game can be spectacular and interesting. And we managed to do it. I am sure that chess or blitz will have a great future on the television.

– Does it mean that Moscow ''Golden Blitz'' tournaments will continue?

JL: No questions. We are discussing this with our Moscow partners right now.

– Do you like to play here in Khanty-Mansiysk?

JL: It is not very easy. It sounds strange but I faced with some problems in the first match al-ready, playing against a man, whom I didn't know before. I got to know my opponent – master Pridorozhni only after a first game. I can say he was playing good without any complexes; it earns some respect taking into consideration big difference in rating. As the result, two first games was draw, and I had to work hard to win tie-breaks. Second match was the easiest for me at this tour-nament. Everything was clear in the first game already, when Alexander Ivanov playing with White made a mistake in mid-game. And a match against Najer was like a survive racing. We both played carefully, trying to avoid mistakes, and to make opponent do this mistake (But for us it wasn't a usual game). At the end in the 6th game Najer made a mistake and I took advantage of it. But our chances were absolutely equal.

– What did you feel when you got to know that your next opponent would be Bacrot?

JL: I was all right. You do not choose your opponents. Our first game was very hard for me, like most of my games, when I played with Black against Etienne. They all had the same script: I do the equal after the opening, and then I relax, blundered some important moves of my opponent and then fight as I can till the end of the game. This time I managed to defend, even though Bacrot gave me a lot of troubles.

– He always beat you at the France Championship last years…

JL: This is not right; I have won two last championships. The thing is that Etienne did a good thing – he didn't participate at those championships. But I can tale the truth today: Bacrot is play-ing great. It is fair that he has a bigger rating.

– But do you have more serious opponent besides Etienne?

JL: Right now our battle lost its previous excitement. I would feel myself much weaker before: how did it happen that my native player had a bigger rating! But I think more philosophically about life right now and I don't consider my chess career as something most important in my life. So a match against Etienne is like a match against any other chess players for me now.

– Which level did impress you the most at the tournament?

JL: I am impressed by Carlsen. He is showing such game at such age! He has good preparation and good nerves. It is also interesting to watch Kamsky, who came back after a long break. In gen-eral I can say that many people have a chance to win this tournament in theory.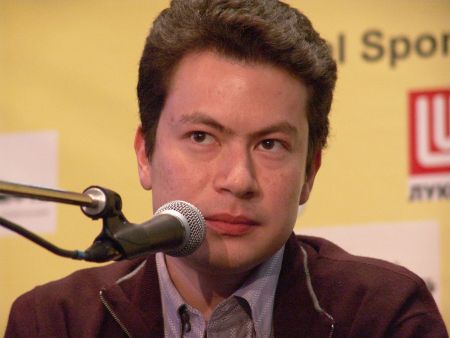 – It is not the first time for you to stay in this region, but you haven't been in Khanty-Mansiysk before. What are your impressions about a city, about the organization?

JL: I have a feeling that I am a native citizen already. At least I have learned by heart the road from the hotel to the playing hall, I know every stone here. There are perfect opportunities for chess and chess players here. That is why players keep talking about it in every interview. I liked the city: modern and I can say advanced. The weather became worse, but it is not organ-izers' fault. The Siberia should have such frost in December. Anyway, warm hospitality compensates even very cold weather.

– You always play successful in Poikovskiy, what is it connected with?

JL: First of all it is connected with an atmosphere of the tournaments. I always play good in Si-beria. I won a 2003 tournament and I will never forget a banquet after it. I remember that it was the only case then I started to speak Russian with French accent. You know the reasons I think…

– Did you study how to drink Vodka since than?

JL: Well I am just training now; you cannot call me a professional yet.

– Did you watch San Luis Championship?

JL: Yes, I was very impressed by unpredictable victory of Topalov. Now FIDE has a real cham-pion, who has won just everything in this year.

– They say you have visited the 11th World Champion Robert Fisher in Iceland recently.

JL: Yes we met, but we didn't arrange our meeting before. Fisher is a big original. We had seri-ous plans, but didn't bring them to life. Bobby has a difficult problem a lack of trust to people. Ob-viously it is not easy to have negotiations with him.

– Your opinion about Kasparov leaving chess.

JL: Kasparov is a man who loves concrete things. He wasn't ready to pursue a career in a com-pletely uncertain situation. That is why his hobby is politics. As a chess player I regret about his leaving.

– Is Vladimir Kramnik your friend? In your opinion what is the cause of his regress, can he comeback at the previous level?

JL: It is difficult question. In his time he had brilliantly won a match against Kasparov. Then he realized the responsibility for the title. It is hard to play when everybody expect you only to win. It is pity that his crisis is continuing. But I am sure: it would be interesting for everybody to watch his match against Topalov. No questions a Russian could have all chances to win. He dies hard.