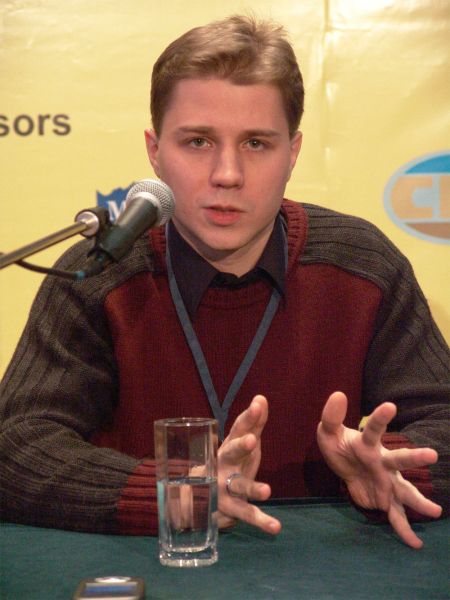 A year ago after super final of the Russian championship Kasparov said that Motylev represent the future of Russian chess. Alexander begun that tournament not very good, but at the end he was winning almost all matches and he successfully played against Garry Kimovich. This year didnít prove and didnít denied masterís resume: A man from Yekaterinburg mixed his victories with his misfortunes. He was expected to play good at the World Cup, but he lost after the second round.

-Alexander, can you tell as at what stage of your carrier are you now?

AM: This is provocation question. I want to think that my carrier continues to develop. After super final of the Russian championship and Aeroflot Open, it seemed to me that I was sure about my skills and I started to play stable. But then I planed my game curriculum bad, I was playing to much and I had only negative emotions. Partly it influenced on my performance for the Russian team. I had not only physical tiredness that summer but also moral one too Ė it was hard to play full strength.
Consider my carrier in generally right now I am reading a book by Victor Korchnoy ''chess are merciless'', where an author thinks about the age, when chess player reach the top of his profes-sional development. For Victor Lvovich it was an age when he was 50. Chess are getting younger our days; there are a lot of young chess players like Carlsen Magnus, which reach great success when they are young. But I think that this top professional age should be then you are 25. The au-thor of the book, an old school supporter, considers that this age is about 40, 45. I think the truth is somewhere between, I want to improve my chess when I am 30.

-It was your first year playing for the national team. But Europe championship was a crash. What happened?

AM: To my opinion about half of the team was prepared the same level, bad level. At least I can say it about myself.

-If you knew that everything was bad, would you refuse to play for the team?

AM: If I know everything beforehand, I will refuse from even the most important tournament. But then I was going there, of course, I wanted to show my best sides.

-You had to be a second of Peter Svidler at San-Luis championship in autumn. Was this job hard for you?

AM: Everything was very interesting and difficult the same time for me. It was my first time at such level of performances, and I was a second. In spite of much work it was really useful to watch great chess playersí game.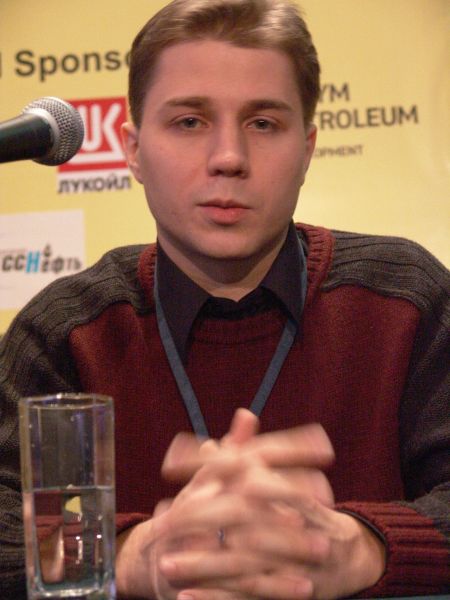 -What is your opinion about a new World champion Topalov?

AM: I supported Peter, but Veselin performed such level of game at that tournament, that it cannot be compared to past Topalov. He was prepared very good, he had a great team, - everything worked for him, and he won brilliantly.

-Do you know that story when players didnít applause Topalov in Argentina accusing him in using a computer during the gameÖ?

AM: There is a lot of unknown in this story. Just Topalov was playing extremely good; he showed them unattainable level of performing; that could cause a gossip. I donít believe it. He was playing very good first matches, but then made a mistake for example against Morozievich.

-Here at the World Cut a Topalov trainer Ė Ivan Cheparinov beat Vasiliy Ivanchuk. Do you think those victories connected?

AM: It is difficult to say, but it is great personal achievement of Ivan to win Ivanchuk. So a Bul-garian chess are developing fast.

-What do think about your opponent Ruslan Ponomarev?

AM: Ruslan is still very strong player. He is a FIDE champion of 2001! Of course I wasnít glad to know that he would be my opponent at the second round already. Hi is good at classical chess, at fast chess, at blitz, he has won a hard blitz tournament in Moscow recently. At this time he was stronger tooÖ

You are going to play against Svidler at the super final of Russian championship. How it will be? Will it be hard for you to play full strength?

AM: Well I played against Peter several times. Usually when you are playing you forget about friend relationships. I think it doesnít mater who will win, we still be a really good friends. A performance will be okÖ

-And the last traditional question: did you like here in Khanty-Mansiysk?

AM: There was an exertions tour for us, so I managed to see a city. I was surprised how many modern buildings are here. It seems that is the city of the future. We donít have such things in Yekaterinburg, where I live.