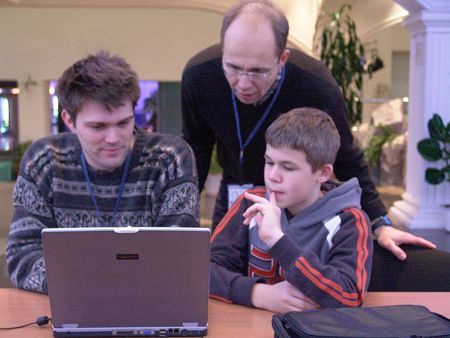 Norwegian star Magnus Carlsen won one by one all his opponents on the World Chess Cup in Khanty-Mansiysk. Between games he goes skiing on the local tracks.

Despite the age – Magnus is 15 – he is already a bright player who can stay calm in all situations. This fact discourages leading GMs of the world. The boy looks younger, but this didn't influence on his win over Anatoliy Karpov on the tournament in Reykjavik. At that event another opponent was Garry Kasparov. In the first game of the round Carlsen had all chances to win, that day his luck had turned. However, specialists say that after that game Magnus got that confidence. On the World Cup in Ugra he won FIDE Vice-president Zurab Azmaiparashvili, then there was another victory over experienced GM Farrukh Ammonatov. Next was Ivan Cheparinov, a second of the World Champion Veselin Topalov. ''Who's next?'' wonder fans, specialists, participants…

It came out that Magnus is not only a brilliant player, but being a real Norwegian can ski. He visited Nordic Ski Centre and went skiing on the tracks known to many famous athletes, among then there is Carlsen's countryman, great biathlete Ole-Einar Bjoerndalen. ''From the technical point of view track here is better than in Norway'' – said Magnus with moderation. He is interested in biathlon and follows competitions. ''I watched Championships and World Cups, held in Khanty-Mansiysk on TV, memorized some parts of the track. While skiing I reminded them''.

Magnus almost has no time to see the town, but his father Henrick eagerly wants to do it. ''Everything I saw impressed me much. This town is fantastic! Its modern architecture with a combination of glass and stone, kind people, nice nature cannot leave untouched''.