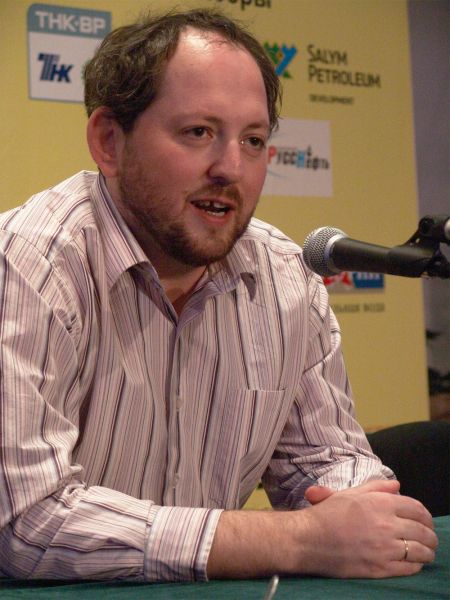 The Israeli chess player left the tournament with a light heart. ''I didn't make it'' – that was a short a comment of Smirin for his match against Kamsky. A habit to perceive a success easy and accept misfortunes is visiting card of Iiea. You cannot forbid a man to live easy.

– A traditional question: Is it your first time here? Do you like it here?

IS: It is very unusual, cozy place. I have been to North several times: in Norilsk, Novosibirsk. But it was long time ago… I don't know how it feels to live here constantly, but it is very interest-ing to be a guest here. The nature is wonderful, watching the city from the bus window I can say that I like it too.

I don't have any questions to the organizers. Everything was at very high level. Maybe the sys-tem of the Cup is not very comfortable. I mean when 16 people are playing in final to get 10 places for participation in Candidates Matches.

– What people do you consider favorites?

IS: I think Aronian will be a winner. Grischuk will take a second place. Gata Kamsky, who sent me home, will probably take a high place. I cannot say anything about other players…

– What about Carlsen? He impresses everybody here…

IS: I don't think that Magnus at the moment can pretend for a victory in this tournament. Of course, everything can happen, but each miracle is a well done job!

– Is it not amazing that you lost playing rapid chess? You were a great professional at this component.

IS: Yes, I was participating great, I was one of the best, but… it was 10 years ago! Rapid chess is for young people. I am not a boy already so it is harder for me. I beat Kamsky at the first game at the good level. At the second one I don't know what happened, maybe nerves, maybe I was too relaxed. But even before that I was playing knockout tournaments bad sometimes, for example in rapid chess Grand-Prix of 1994-1996. And I had very strong opponents: Anand, Kramnik, and Iv-anchuk. Out of 4 matches I played 3 with 1:1, and then I lost in blitz. I beat only Ivanchuk. I never know why but I was always playing blitz bad. It was in the past, and it is what I have now.
To play blitz good, you should often play it, should be trained. I never play blitz now. I don't participate in ICC. But before, I have played blitz well. For example in 1989 when I was 21, I won a Soviet Blitz Tournament, after major league. It was amazing, I started 0 out of 4, and then I managed to do 10 of 11, so I got a clear first place. But last 10 years I am not interested in blitz.
As for match against Kamsky in general, I was playing better but Gata is still a very strong player. Maybe now he plays weaker (for example, opening is not of a high level) but still has strong character. It is hard to give the reason of my lost in almost winning match. It is hard for me to explain some processes which take place in me. I remember how I had lost at World championship in Moscow in 2001. I had to lose two games playing with White in a row. And I did it! I couldn't stand psychological pressure.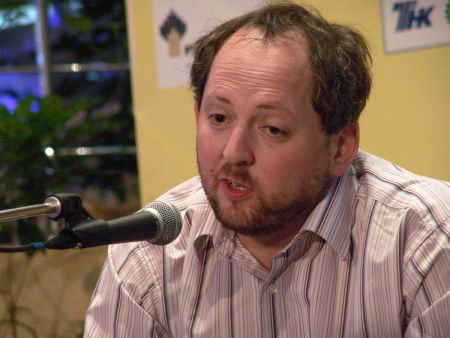 – Are you going to improve this disadvantage?

IS: It is hard to change anything in me at my age. I am not going to die of it, if I have a chance I will improve. I will train will for win, psychological stability.

– Do you consider yourself a professional chess player?

IS: I have been playing chess not so often recently. I am too lazy. But you can say that I am a professional. I live with it; go to the tournaments, just play. But I know that real professional should work much harder.

– If we look at the list of participants it will appear that Belarusian team is almost the best here. You, Gelfand, Shulman, all formers…

IS: Yes, maybe. But even without us Belarus is on the 20th place in the world, which is not bad. I visit home not very often. I have been in my native Vitebsk recently there my first trainer decided to gather all former pupils to have a rapid chess tournament.

– Is chess popular in Israel? How many kids are playing?

IS: Honestly speaking, I have been living in Prague half a year already. But I consider Israel my resident country. To my opinion the interest for chess in the whole world has descended recently. Yes there are some distinguished countries like China, the USA and India. But there are not many kids playing chess – I mean playing chess professionally… I see that there are a lot of talented kids in Israel, who win Junior Championships, but they usually give up when they are 16-18. Of course not everybody gives up.

– It is interesting; Yuri Shulman told us that kids have great interest…

IS: Yes they have interest, but I talk about professional chess players first of all…

– Such as Carlsen?

IS: Yes. He is very gifted boy, he has big perspectives. The main thing that everything should be good for him for the next two years, so he would not overplay or give up, and his nervous system would be in a good condition too.

– Is it offensive for you that such little boy can beat you?

IS: No, it seems very logical: chess is getting younger. It is very natural – young people have bigger interest, wish and energy. If they control their emotions (you have no doubt about their knowledge – they study with computers since childhood) they show good results at such young age. But Carlsen and Karjakin are different, they are great talents!
I don't know whether it's fortune or misfortune but chess is becoming sportier. And sport is for young people so there are 20-25 years old guys at the front line. Computers are forcing us, old players out. There is less room for creative work and art in chess.