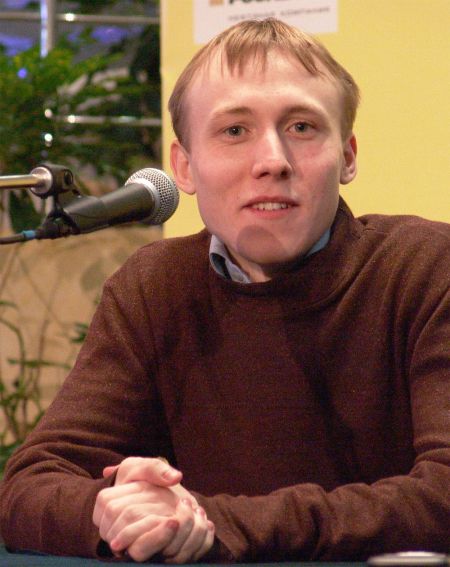 The last FIDE World champion who is still participating Ruslan Ponomariov does not take a lot of attention. Without any "noise" he is winning one game for another and he is first from 16th chess players who will play in ¼ of the tournament. Recent years, when Ruslan was mainly mentioned in news, dedicated to derangement of a match against Kasparov, were dark years for Ruslan. So Ruslan has put some light in it.

– You are only one participant of 1/8 of the tournament who managed to win both games. How do you like to play in Khanty-Mansiysk in generally?

RP: I am satisfied with my performance in generally. I have won four last games, both matches against Xu Jun and Van Wely with 2:0. In the first round I had a weaker opponent – young player from Egypt, but a game was much more difficult. It all started then I got a better position in the first game, missed some important moves and almost lost the game. At the second game I needed 109 moves to win. I just cannot explain that.
Maybe I have been playing too much recently: first at the team championship in Beersheva, then against computers in Bilbao. During this time I was at home in Kiev only several times. Also three hours difference and another climate influenced too. At first it was even warmer here than in Kiev, but now I realize what they call Siberian frost! It is good that I have already got used to it.

– How can you value the level of organization of this tournament here in Khanty-Mansiysk?

RP: I like everything here. There is a good hotel, my room is cozy and food is good. A little disadvantage is that you have to get to the playing hall everyday, but you get used to it quickly, and all participants are in the same conditions. I like it here.

– Is it surprising that you are playing so successful here? The Ukraine team lost the title of the Team champion, and then the team of champions lost against computers...

RP: Everything can be explained. Concerning a match in Bilbao, we didn't play very badly there, and I was the only one who could win some games there. Refer to a championship in Israel, the reason why did we loose was that we were winning too much before and were ready to fight only for the first place. Before that we would be satisfied to have 2nd or 3rd place, and there we felt responsibilities. For example before start we had a meeting with Minister of the Interior, the biggest native airline started to be our sponsor… It influenced us a lot. We were trying, but we lost a lot at the opening, and we couldn't play better further. We relaxed and started to play full strength only after we had lost even the 3rd place. There are different situations in sport, somebody must win and somebody must loose.

– Ivanchuk made an announcement that Ukrainian team was saving forces for the World Cup...

RP: I don't know who he was talking about (Eljanov and Moiseenko – note by editor). About myself I can say I won two matches and two more were draw. I cannot name this championship a collapse; on my playing board I shared the first place. I don't think guys were saving forces for Khanty-Mansiysk. Otherwise they would refuse to play for the team. And at the World Cup there are not only members of Ukrainian team participating.

– A lot of players took part (Ivanchuk too) but only Ponomariov have reached a success. How can you explain that taking into consideration general and obvious progress of Ukraine chess?

RP: It is a pity that guys couldn't manage to show better results. But we should also understand that in that system there can be everything. Why am I alone now? Maybe I had weaker opponents, than others. It is hard to find explanation, everybody have their own one.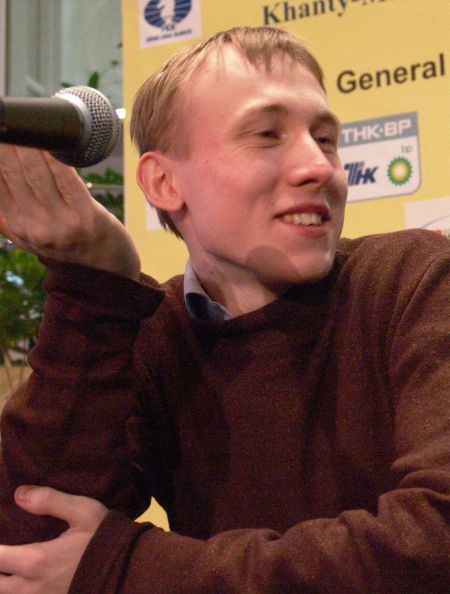 – Ruslan, the other day you were a World Champion, and now you play for a chance to participate in Candidates Matches on equal conditions with other players. Do you think the destiny was bad for you; you didn't lose a single game but lost Champion title?!

RP: Yes, I have lost my title even without playing. But my most important discovery is that the life is not over after that! I am still young chess player, I am only 22, I will aim for new results.
I am not going to give up chess like Gata Kamsky because they didn't give me a chance to become a World champion. My trainer always told me that chess were very difficult kind of sport. He was like testing me: "Maybe it is not yours", "Maybe you should go and study to be a programmer". But I wanted to go further. And I have reached my aim.
When I became a World champion, some time I didn't play at all, I was training to play against Kasparov, solved some private problems. Now I am trying to do my best. I participate in all tournaments, even if they are in a row. I hope my best results wait for me in a future.

– What had changed after you became a World champion?

RP: Nothing has changed in me. But people started to behave differently with me. I started to be popular, people recognize me in the street. If you are walking down Krechatic Street somebody would certainly ask to sign an autograph. When I came to Kramotorsk after my victory against Ivanchuk, the whole city was meeting me. They met me at the train station and carry me… A huge crowd of people – you cannot walk by or hide. But now I get used to it, I am ok about it.

– It seems that your skills are coming back to you, and we see Ponomariov like in Moscow 2001!

RP: I am glad that I manage to show good results here. What will be in a future, I don't know. Yes I am going to participate in the Candidates Matches, but when it will be, against whom I am going to play, who knows? And this tournament is not over yet. I need to play, to try to get further. Honestly speaking, when I was coming here I didn't think about Candidates stuff. It was just interesting for me to participate in this tournament. This is my second World Cup. The first one was in Shenyang, but there was another system, and much less participants. And here there is everything like at old FIDE knockout tournaments.
I would like to know proper information about the system of playing for the World Cup. Everything has changed in that short time. First they were talking about 5 winners of a World Cup; right now there should be 10 of them. Will the last chance tournament take place, or not? I have a lot of questions. I can answer them only by winning!

– Is it easier to sort out one's relationship playing chess or doing politics?

RP: Everybody should do their own business. I understood it a long time ago. I am good at chess, so that is my profession. Everybody is different.

– So your decision to take part in political elections in Ukraine last year had a strong motivation too?

RP: That moment I thought it was important for me and my country. The Ukraine society was much politicized that time. Living in Kiev where everything happens, it is hard to stand aside. Right now since that time I can think about it, make some conclusions. There will be parliament elections soon, but they are going to be much serene than president's one…

– Many people were surprised that you supported Yuschenko, and not Yanukovich who made a lot about to organize your match against Kasparov. RP: I thought Yuschenko was really ready to be a president at that moment. There was nothing personal. And they were the first elections where I had a right to vote.

– Do you regret about your choice a year after?

RP: Not at all. Of course I have expected more. Not much have changed over this year. It seems great changes are not so fast. We can only wait now.

– We don't know about the President, but you are certainly lucky with your trainer! Were you impressed that Topalov, who was in your training team, became a Champion himself in 2001?

RP: No, I knew that Veselin could do that. Now I have to catch up with him.

– Did you watch San Luis?

RP: Not very attentively. I was just downloading the results from the internet. I didn't have opportunity to watch it all day. I even didn't have time to congratulate Veselin about his success. But I want to do it soon. He showed outstanding result! It is true that our work together was useful for him – who is that trainer "who managed to overcome his pupil"?!