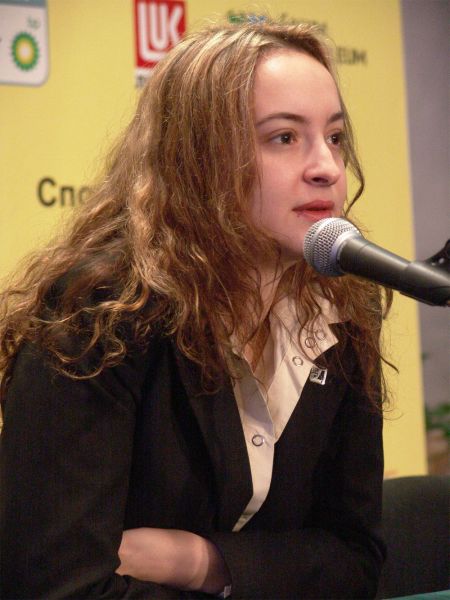 The press conference of the acting World champion beat all records by attendance. All journalists' chairs were busy, and they almost wrested the microphone. There is an interesting side – questions were asked mainly by women, - it was like they didn't trust what male chess players said, and only Antoaneta could give them a true answer. A Bulgarian player made one more surprise, she refused to use an interpreter and spoke Russian, and usually she speaks English…

– Is it your first time in Khanty-Mansiysk? What are your impressions about a city and a region?

AS: Yes this is my first time here and I am very happy to be here. It is a wonderful city with nice buildings and clean streets, plus great hotel, good food and excellent game conditions. It is a pity I didn't manage to go further the first round I still like it here very much!

– Tell us about you sport plans for the future.

AS: The most important event for me will be a Women's World Championship in Yekaterinburg in March. I will have to defend my title! Before that there are some strong male tournaments in Gibraltar and maybe in India.

– Chess is admitted to be more male kind of sport, why did you choose it?

AS: Yes, there aren't a lot of women in chess. Why did I choose this sport? It is hard for me to answer this question – I began to play chess when I was five and I was fascinated by this game. Then I realized that chess as important for me as to breathe, I made a choice to continue to play professional one. I cannot imagine other life…

– Tell us then about your family, about your first trainer…

AS: I was born and now live in Sofia. I live with my parents. My trainer during many years was my father. He is a professional artist, but he loves chess. We had a lot of books about chess at home, and when I was a kid I studied them. Who did work with me further? It is difficult to say only one name. I worked with many chess players. I can mark only Vladimir Georgiev, who worked with me at the World Championship in Elista in May last year. Of course each chess player needs a second, who will work with him. It is more important for woman to have a second: it is harder to make woman work.

– Who do you like to play with: with man or woman or a computer?

AS: Only with humans! We need computer to prepare and for analysis. Psychology plays a big role in modern chess, there is nothing like that in computers; ''living'' opponent is important for me. Besides that a computer will never miss anything, will not make a mistake – it is half harder to play against computer. But with its help you can find some more variants, make a right decision due to analysis. And as for people, psychologically it is easier to play with men. You just play chess with them…

– A game is lasting long. What do you think about besides moves?

AS: Then a game lasts seven hours you have a lot of different thoughts. I try to get rid of them. You need to save concentration even in the longest game. At least nobody makes you to seat all the time at the table, you can stand up, walk a little bit, and drink something.

– Last year you got a chess crown, this year Topalov became a World Champion. How can you explain the Bulgarian revolution?

AS: Topalov and I are playing chess long time. Bulgaria has good chess traditions. I don't know if you can call this a revolution! I can say only that it will be hard for young Bulgarian chess play-ers to get to the top, than it was for me or Vesenin. There are fewer tournaments, and less attention to chess – when I started to play there were 20-30 Open tournaments to choose. Now you have to go abroad, and you need money for that… But there are a lot of talented chess players in Bulgaria.

– Chess is not the most spectacular game. Do you think there is not enough attention for you, taking into consideration that female chess is less attractive than male?

AS: How to say it? I understand that chess is not football; it will never have such popularity. To understand the beauty of our game you should know some details, nobody expects the same from you in football where there is a ball and a gate. What is also important for forming an image of a sport is its ''telegenic''. They say the biggest part of chess audience is in the internet, but I don't think so. It is not by chance that many years ago a strong female tournament appeared in Krasno-turinsk, it is almost Linares now.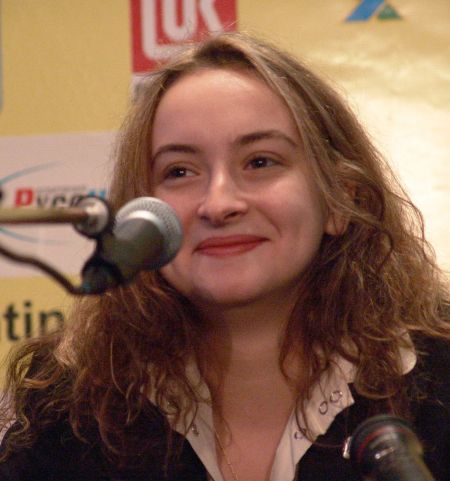 – To your mind what is your strongest feature which allows you to win?

AS: I consider my strongest feature is a will to win and the ability to concentrate at the important aim. And I have a lack of working hard.

– Do you use any women tricks during the game?

AS: I don't really understand what you are talking about. But I think if I think of something like that I will lose more energy than my opponent when he faces with them. Only one thing I try to remember sitting at the chess board that I am a woman!

– Are there any regulations which tell you what to wear for a match?

AS: I don't know anything about those regulations. Chess players are quite cultural people and understand what they should wear on public.

– Well you are only one female chess player among 127 male opponents. You could organize a Beauty Contest.

AS: What questions do you have? I have never thought about my opponents that way. We know each other pretty long time… When you are surrounded by friends and colleges you don't think who is more attractive.

– Can you describe your Mr. Right?

AS: Let's talk about this later! When I will meet my Mr. Right you will know about his features. I don't consider chess player as a variant.

– What has changed since you became a World Champion?

AS: They started to invite me to the tournaments. But I always have to prove that I am the best. It is hard. FIDE and I are also developing some projects how to promote chess. I think it is very in-teresting. I hope to win Woman's championship one more time and save my crown for two more years.

– You are very confident. Maybe you want to win because FIDE champions now automatically become members of the Presidential Board and can have some real influence at the chess world.

AS: And this is of course too. I am thankful to FIDE for this decision. Sometimes the opinion of chess player and FIDE opinion are different, so we should work together!

– Who do you consider your strongest opponent at the Championship in Yekaterinburg?

AS: There are many of them. First of all they are Chinese girls. Year by year there are more of them and they are stronger and stronger. Indian player Koneru is strong. Russian chess players are also strong: Kovalevskaya, Kostenuk, both Kosintseva sisters… I think it will be interesting in Yekaterinburg; equal chances have almost 20 chess players.

– Have you ever thought to open your own school?

AS: Yes, I have. Bulgaria needs such school. But my wish is not enough we need serious pre-paratory work for this. I am not ready to do it yet. I am a chess player now; all my tournaments are in my curriculum for 9-10 months! When my active career is over, I will come back to this question.

– Do you do any other kinds of sports?

AS: I like swimming, going fitness; I even took some yoga lessons. It is very important for chess. A game lasts several hours. You should be fit.

– What do you do in your free time?

AS: I don't have free time… I study in Sofia University at economical department. I have finished a bachelor's degree recently.

– Antoaneta, thank you for this press conference and for speaking Russian. You have to travel a lot. What other languages do you know?

AS: First of all I speak English and I know Spanish, Croatian and as you can see Russian.