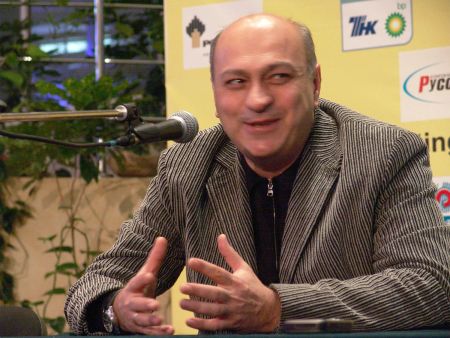 This vivid Georgian man in his best age always participates the most important tournaments held all over the world. And he is always at the different sides of a barricade. When at the chess board he is a strong chess player, and a leader of Georgian team. When not then he can be a Vice-president of FIDE and also a trainer whose pupils reached great success! Aizmaiparashvili became a first sensation here in Khanty-Mansiysk losing to a 14 years old at that moment Magnus Carlsen in the first round. That question was the first in the press-conference…

– How do you like Carlsen's performance? Is his success a fortuity or regularity here?

ZA: No doubts that Magnus is one of the most talented chess players of the world, and you should be serious towards him. My mistake in the first game was that I was playing too risky having Black. I shouldn't do it, I should play normal chess. At the second game I concentrated and it was rather successful. Carlsen as all young chess players has the some minuses and I managed to use it… But he is a really talented boy. He showed it here, he shows it at other tournaments. Maybe one day Carlsen will become a new World Champion!

– Besides Carlsen's performance, which one was impressive?

ZA: I was im-pressed by Ponomariov`s performance. He has already done a lot in chess; several years ago he became a World Champion in Moscow, then he didn't have any progress for couple years, so right now it is another rising in his chess. Obviously he made some lessons from previous misfortunes, started to analyze his mistakes.
Not being a champion already Ponomarev started to treat chess very calm, reinforcing his game, I think he has reached serious success that is what he shows here at the World Cup. So I consider Ruslan one of the favourites of this tournament. I also was impressed by Grischuk. He is an emotional player and there is some drops, but is in a good shape, he pretends to win too… It's not a secret that most of all I support Georgian chess players. They made a good impression too: Pantsulaia and Jobava played good. Izoria didn't impress me. I am also glad to see one player of my generation playing well, this is well-known Mikhail Gurevich. He is doing great at the World Cup and also represents the veterans.

– Can you value this tournament as a FIDE member?

ZA: I respect everything what is happening here. I don't have any claims as a chess player and as a FIDE Vice-president. Rare tournaments are organised so good. It is surprising that Khanty-Mansiysk has no experience in holding big chess competitions. We can only respect the work the organizers have done. This work was done in a short term I cannot remember any simple case, where they have made a mistake. Fine fellows! Thanks to the Governor and his team and the local organizing committee for having this tournament at such high level. Everybody, who have visited Ugra region will remember this tournament.

– Khanty-Mansiysk is one of the youngest cities in the World. Everybody and you say how good it is to be here! What can you wish to the city and the region?

ZA: It is pleasure to see how new cities are building. Talking about Dubai (it is even younger) or Khanty-Mansiysk we can see that human hands can do some miracles. The most important is that you have a creation field. When city is old, it is difficult to bring big changing – too many traditions. And here there are no limits for creation.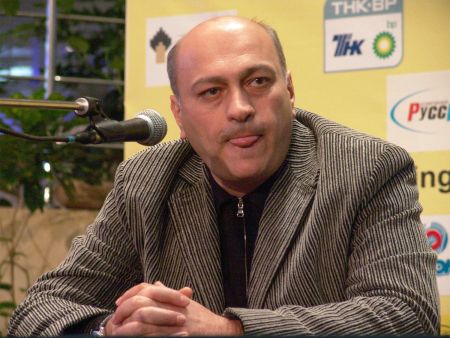 – What shall we do to have strong chess players here?

ZA: If you have started with the World Cup you have to continue working in this field. The main thing is not only having big tournaments here, but also to open a chess school here in Khanty-Mansiysk. I am sure there are a lot of talented kids. But you don't have to have huge building. A small building where parents would bring their kids to study chess and several teachers is enough. Without it you cannot go further, having only tournament here is good for players, but useless for future development.

– At what age one should begin to play chess?

ZA: The earlier is the better I think, certainly before the school. During the chess lessons a kid is becoming a person! How is it going in simple life? A kid does first then he thinks. In chess we have another picture: first you think, and then do it. Then everything is easy for him, because he knows how to solve problems. It doesn't matter if he will be a great chess player in the future; if he played chess he would find his sphere of successful life!

– Do you do trainer work?

ZA: Yes, I do. I cannot say this is my full time job. I have another dream; with help of FIDE we can establish a chess academy in Georgia. And I am not going to be a head of it; I will just give some consultations sometimes. About my trainer work, I have been working with several strong players such as Teimur Radjabov and Etienne Bacrot. I worked with a national team of Greece and after that my ''pupils'' won Georgian team at Olympiad in Kalvia! I love to work with young players. They have something fresh, I am glad if they have a progress after our work.

– Some time ago you were at Kasparov team; you were a second and a trainer. What can you say about his decision to give up chess?

ZA: It was pity that he decided to give up. But for me, as I consider myself his friend, everything was very clear. Garry is a very purposeful man, it was hard for him to bring something new to chess (I am sure he would have great success if he continued), then he got another aim, and he can do his best only in one sphere. Now he is fond of politics. But it is not my problem; I look at these things as his friend. I wish him good luck in his new job. But I think if he doesn't like his new world, the doors of chess world will be always open for him…

– During several years you are a leader of a national team. One time you said that if you felt that you were not a leader for guys you would leave a team. Here your team performances better than you…

ZA: Maybe I would do it earlier but not in this year. It was first time when Georgia took part in a World Team Championship; I just had to participate for my country. Maybe I did it for the last time… But there were some obvious reasons to be disappointed: For example a young chess player Izoria refused to play for the team at Beer-Sheva and in Stockholm at the European Team Championship. I just refuse to understand such unprofessional approach to my country and to my colleges. Refer to my promise very soon you will make sure that I wasn't lying. There are some players in the team that can take my place. Jobava, who showed the best performance at the last Olympiad and was doing great here, Pantsulaia has been playing wonderful recently. Gelfand had to show his best to beat him at 1/16 of the tournament. Izoria could support our team too. I hope he will be with us next year. And we have other young and strong chess players. I am sure about our future.

– There isn't enough stability in your players' performances: each year one of them has a great progress, and then he goes down. And all the time we see the same story.

ZA: I think some of our chess players are not serious enough. I am not speaking about Jobava, who was playing great last year and this year he couldn't make it because of the illness. But Izoria is a very talented high professional chess player, but he has some psychologi-cal minus, which doesn't depend on chess. He doesn't work out this question, and it seems to me he has a lot of work to do. Pantsulaia should be more professional about chess and then he will have a success results. Gagunashvili was showing good performance at the Olympiad, we hope he will be one of the leaders of Georgian team, but here he had some personal problems, he travels a lot and work less. But everything is great. Besides those four players, there are many young chess players, who are not famous yet. And I hope Georgia will always be in top ten in chess.