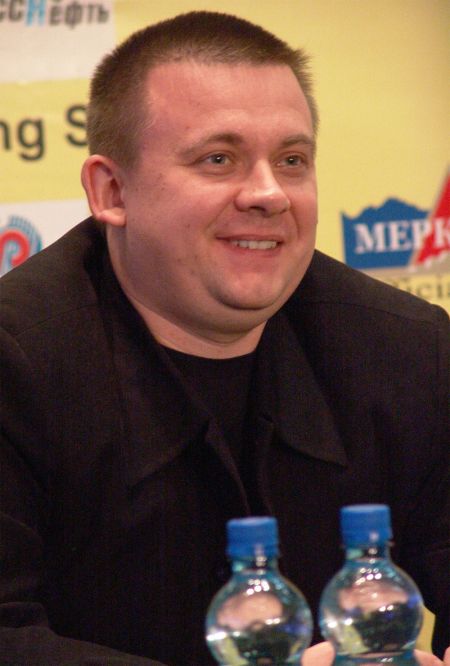 For many years Rublevsky is in a number of the leading chess players of Russia and the World. But he didn't have any success at previous World Championships. He explained it by the fact knockout tournaments don't fit his style of game. It seems that the World Cup in Khanty-Mansiysk will make Sergei change his opinion. He is among top-16 of tournament now.

SR: Yes, I have never got further than the 3rd round during all history of knockout tournaments. I decided that this system didn't fit my character. So I consider my performance at this tournament a great success. I have beat three strong players such as Indian Sasikiran, Georgian Jobava and Russian Sakaev. All matches were rather difficult and took maximum of concentration of attention. I was close to leave a tournament after the second round. I was playing good against Sasikiran, but then there was a catastrophe. I touched a rook – and this was the only piece, which led to misfortune in this position. After a game I had bad feelings, I thought I would go home tomorrow. I didn't want to train for a game. My friends helped me; they said it was nothing and that I would catch up with White. I relaxed, caught up and won, after that I didn't want to go home. We still have to pay respect to an Indian GM. He represents an Asian chess school, he is smart and fast. To beat him you should not only get a better position, but also find out a lot of traps. Besides that he just plays chess very good.

– What can you say about next game against Jobava?

SR: It will be easier. Even that Jobava is a talented player, participating better than his rating.

– We were impressed by a smart move that you had done during the second game of tie-break…

SR: Yes, at that game it was important to me to make sure that I had won a previous round honestly. I managed to fix a trap leaving a pawn under attack on b7. Then my opponent found out that a pawn was poisoned. That meant that we would have a draw by White's replaying, but nothing more.

– Did you believe from the begining that you can go so far?

SR: No, of course. I was lucky the way that such strong player as Vladimir Akopian couldn't participate because of the illness. He was born for knockout tournaments. I would not have many chances against him…

– Isn't it amazing that Russian players have a great success at this tournament? 6 Russian players are in the list of 16 best players of the World Cup. You all usually don't play so good at the knockout tournaments…

SR: Yes and it is great. I can only be sorry because I had to play at 1/8 of the tournament against such strong player as Konstantin Sakaev. Other-wise there were could be more of us at the quarterfinal.

– Yes, but the match against Konstantin was unexpectedly easy for you.

SR: I was really amazed. It is almost impossible to beat Kostya with Black. I can say more, every chess player should be glad if he manages to do a draw playing with Black against Sakaev. And I managed to win the first ''Black'' game.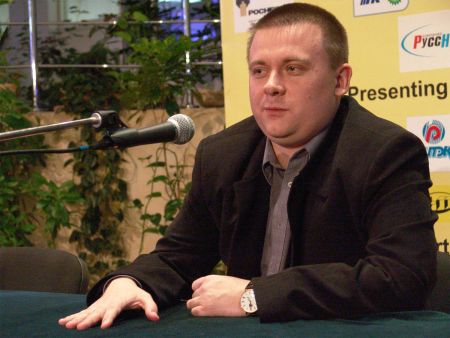 – Can you tell us, do you feel the pressure because of a big prize?

SR: Yes, but much less than at first FIDE knockout tournaments. Last years we studied how not to think about money. Other way you can just become mad.

– Do you like to play in Siberia?

SR: Yes, I like it very much. I took part in Poikovskiy tournament five times before Khanty-Mansiysk. I am convinced that all major tournaments should take place here in Siberia land. You will not be met anywhere else with such hospitality.

– Can I add a fly in the ointment? Everybody remembers your misfortune playing against Chinese female player at the last World Team Championship.

SR: This Chinese female player showed 50% result at her board, I showed ''-1''. She was playing great against me. I could do a draw, but I didn't have a chance to win during this game. But I was expected to win, because we needed to continue to play for the first place. I should pay respect to my opponent. I couldn't guess even a half of her moves!

– They say you called for your trainer to Khanty-Mansiysk after a victory over Jobava.

SR: There was no sense to have him here before. I could lose in any round. Now I will be in Khanty-Mansiysk till the end anyway. Why did I call for him? When you are playing a lot your head starts to work worse, you need a ''fresh'' man.