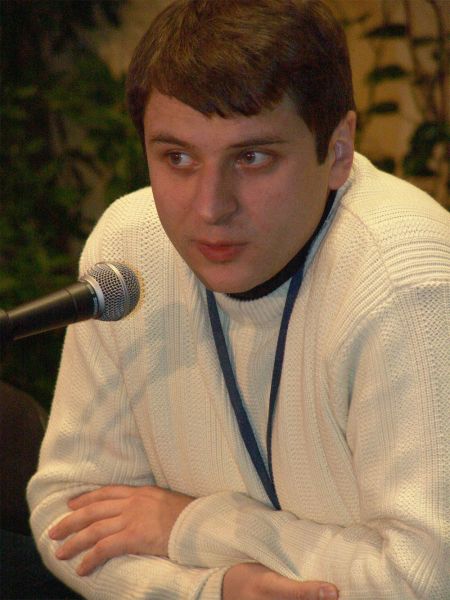 A former citizen of Minsk Yuri Shulman now lives in Chicago. He scared the favourites of the World Cup. Not very impressive GM sent home such participants as Vadim Zvjagensev, Alexander Khalifman and he was the only man who was playing tie-breaks against Alexander Grischuk. But there wasn't the 3rd miracle and charming Shulman is going home to teach children…

- Yuri, you are a new person for such kind of tournaments. Tell us about yourself…

US: I was born in Belorussia. My trainers were Tamara Golovey and Albert Kapengut (they live in the USA now). I started to play chess when I was six, became a GM when I was 20. Several times I was playing for a Belorussian national team at the Olympiad (our best result was 9-10th places). Now practical chess is more like a hobby for me than a profession. Mainly I teach children how to play chess. Besides that I have finished master degree in business and computers at Texas State University. But I continue to work with children. This is all, I think.

– So how did you manage to beat two strong players?

US: It seems that Khanty-Mansiysk sym-pathized me. It was my first time to play in a knock-out tournaments. Before that I didn't participate at the World Cup or World Cham-pionships. It is a pity that I have to leave at the most interesting mo-ment – the frosts started. Organizers made everything, so participants could play comfortable. Leaving this hospitable region I will have only good memories. How did I manage to beat strong opponents? I don't know. Maybe in comparison with them, I didn't think about victory, I was just playing chess. I understand that I play worse than Zvjaginsev or Khalifman, but the last one made a lot of mistakes…

– Can you give some more details about the match against Khalifman? Could you finish it earlier?

US: Yes, but I was losing. I had to recoup myself three times. It was a match of one player of course. I did my best and Alexander played every second game like "Nervous Khalifman" – instead of playing chess he started to fight with himself trying to do the draw. It is much easier for him to recoup himself than to have advantage. There was now place for relaxing at that position. So I was pleasantly surprised that I managed to win.

– Did you watch anybody here at the World Cup? Whose performance did you like the best?

US: I watched and supported my friend and Kapengut's school mate Boris Gelfand of course. Alexander Grischuk is playing great and of course, Levon Aronian.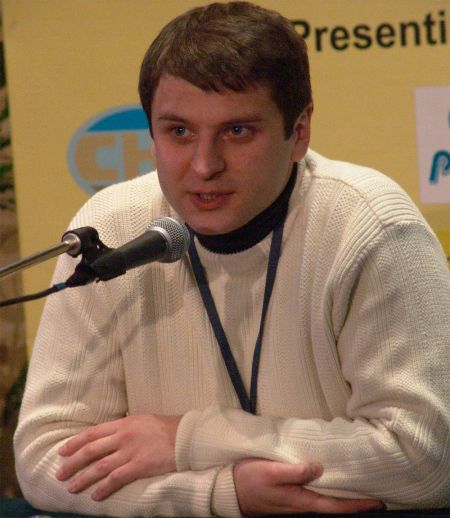 – Did your American pupils support you?

US: Yes, they ordered me not to come home before the 18th of December. I have to break it now…

– Do you have a big chess school?

US: It just started to work after I moved to Chicago from Dallas. There are about 200 pupils, but it is young, only four months.

– Is there an interest to chess among children in the USA?

US: At the school level to my mind chess is more popular in the USA than in Russia. There is only one thing, if we (Shulman stopped for a second and said – of course you) consider chess sport and pupils are always expected to have some results, then in the USA chess is a process of education. Kids enjoy and the same times develop logical way of thinking, their language. I think both systems should exist.

– Is it hard to be a chess trainer in the USA?

US: I think it is a question to each person, each trainer. If you really want to achieve something you will do it! It helped me a lot that I got some education, and there are many other people helping me. It is just incredible that I can have such luck, chess helps to develop everything!

– Do you feel help of American Chess Association?

US: It is an interesting moment. I've just met one of its representatives. His name is Jerry Nash. Before that I have never seen a man, who is so addicted to chess. I cannot value his help: for example, I had some problems with documents when I was coming here. With his help we solved all problems easily. And he helped me with a lot of other things. I see some positive changing in chess development.

– Did you have any problems with children chess financing?

US: Usually we solve these problems face to face. Generally parents pay for their kids. You will not believe, but you should pay USD 1,200 to go to play a national championship, it is too much even for Americans. But… nobody thinks that you lose that money! Parents are happy when their kids en-joy something interesting and participate at different championships. For example, we organized a trip to Mexico in March. Alexander Onischuk joined us in that trip. We met kids from orphan's homes. It is just the first step. We are planning two more trips to Denmark and to Russia…

– How much is your lesson?

US: To those who study once a week it is not expensive, just USD 12/hour. Individual lessons are more expensive – USD 75/hour. For Russia, it is expensive, but for the USA it is ok. There are some more expensive chess teachers…

– Some of your colleges became personal trainers some started to play poker!

US: I don't play poker at all. Perhaps, somebody earns big money doing that. I am not going to give up my job, but I know that you can earn some big money there…

– Did you ever notice that those people who moved to the USA, changed their career, and started to play chess differently? More aggressively maybe…

US: I don't think we can compare that. It is like you come to the USA and the same time start playing bad or good. Maybe, it is all about special features of local tournaments. They have a system unknown to Europeans, but the main thing is easy: you have to try to win every game, for example, you cannot do seven draws in a raw, win two or free final games and still be winning. The prize funds are huge some times, like US $500,000 in Philadelphia or in Min-neapolis, but the difference between the first prize and the last is very big. It brings up the spirit of winners and possibly influences on a style of game of new Americans. Is it bad?