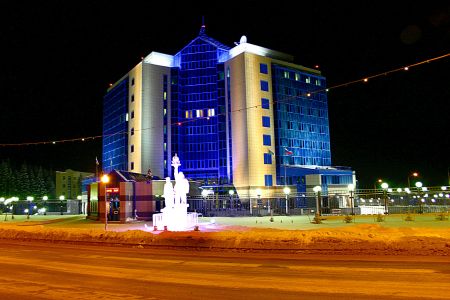 The World Cup participants live in the complex of Wellness hotel «Yugorskaya dolina». It is surrounded by forest and situated next to Irtysh River. Fascinating nature intrigues and wakes an interest to Ugra land. Especially for our guests where are some tourist trips, which you can choose right in the hotel. The saturation of the program depends on free time of the players. So a trip along Khanty-Mansiysk «The city on seven hills» will take about two hours. Tourists can visit Ugra Sports palace, the Nordic Ski Center, where some international biathlon Champio-nships take place, they will see «The Protection of Holy Blessed Virgin» church, a memorial to pioneers of Ugra land, and they will value works of art by Vladimir Igochev artist.

At the «Yugorskaya dolina» hotel park you can pass a ceremony «Consecration to Siberian». To do that you have to participate several games: throwing of tianzin for polecats, going along the bogs and deep forest. If you go through you will receive a certificate of the Siberian man, you will be invited to try some north fish soup and other national Ugra meals.

If you want to test yourself as a hunter or a fisher man, we advise you to take part in our 3 days tour «A hunting for pheasant» in hunting land 37,28 miles from Khanty-Mansiysk, it will allow you to fell yourself a real getter and a breadwinner.

At the end of hunting there can be a photo session near a trophy wall (the video session is also possible), the most successful participant gets a certificate «The best hunter in Siberia». After that the participants will taste a signature dish «a stew pheasant with veggetables in Siberian variant». Also the program of this tour includes such Siberian games as throwing an axe, snow fights, skiing, snow skating, driving a snowmobile. You can also go fishing for perch, pike and cook a fish-soup on the fire.

The guests of Ugra choosing any tours get a guarantee of good emotions and unforgettable impressions.