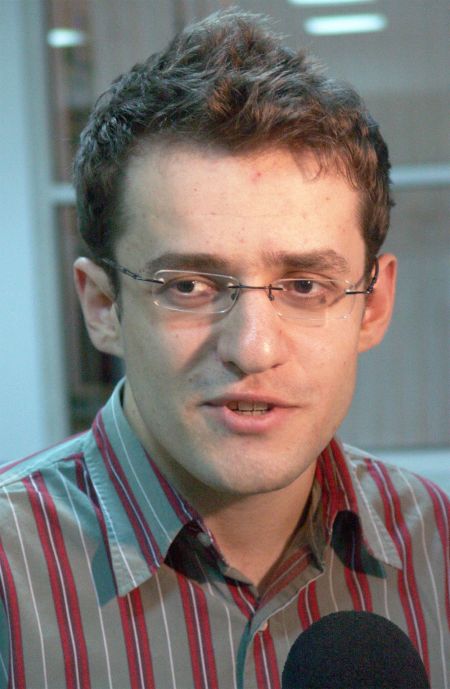 The fact that Armenian GM, who lives in Berlin, entered in the final cannot be called sensational. Aronian is playing great, and this, of course, influenced on his Elo rating. Besides, he belongs to the generation of 22-23 years old geniuses that should win something serious, as many people think.

- Was it difficult to win Etienne Bacrot?

LA: It was simpler than I expected. The first game ended quickly: in the known theoretical position I used a novelty and my opponent preferred a forced draw. Next day I managed to get playing position with advantage. Then Etienne was playing unconfidently. And it is not surprising: it is unpleasant to defend without a pawn and counterplay and at such time control. So, he lost everything.

- But in the final position there could be a draw, isn't it?

LA: Maybe... I can only say that I did a lot in order to make Bacrot to blunder.

- What can you say about your opponent in the final?

LA: Ruslan is a great chess player with huge experience of participating in strong tournaments, including knockout ones. He is very strong in positional fight and in technical positions. Besides, he is of my age. If I'm not mistaken, I have positive balance against him, but it doesn't mean anything. I can say that it was not by chance that he was a World Champion.

- Do you feel tired before perhaps the main final in your life?

LA: Not at all, because I constantly feel support of the local Diaspora. Not long ago, for example, they took me for a walk in the forest. I even had an opportunity to shoot in the shooting-range. It is nice that people come to support just you every day. It encourages.

- At this tournament you had two difficult matches – against Vallejo and Sadvakasov.

LA: Yes, I agree. Honestly speaking, I'm not satisfied with my performance at this tournament. We should tell this straight, I played rather bad. In general, I can say that Ponomariov and Grischuk have more stable style than I. I still have some vacancy in chess knowledge that should be filled…

- It is scaring to imagine how strong you will play after learning more chess.

LA: Basically, when you know a lot, it is more difficult to work well. Nobody knows what is good and what is bad. Maybe, having gained more knowledge I will play worse than at the moment.

- Maybe, you are stronger psychologically? Everyone notes that you are so energetic.

LA: Atmosphere of chess always inspires me. It is a great pleasure for me to be in the playing hall, to talk to my colleagues, most of them are nice people… Maybe that's the reason why I am not nervous during games.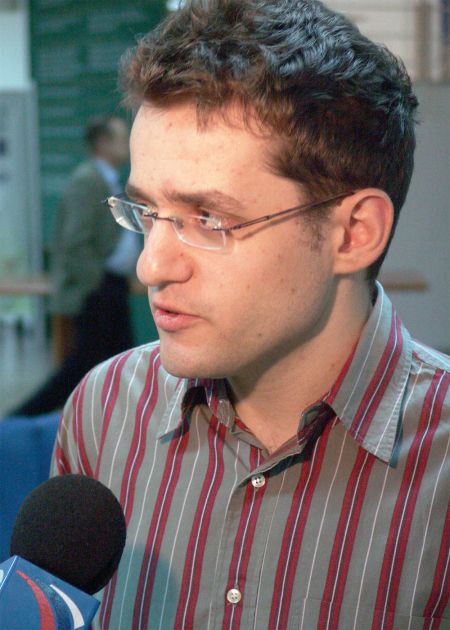 - At one of the press conferences you called yourself "a cheap tactician". Since that this phrase is a saying…

LA: Yeah. Boris Gelfand said: what is that, you cannot win any round without playing tie-breaks!

- How do you plan to spend prize money?

LA: Actually, I don't know yet. Anyway, I have a big family.

- Do you have any global aim? For example, to become number 1?

LA: Basically, I have never thought about that. I just play chess and enjoy my life…

- It came out that the chief arbiter of this tournament is your countrymen…Does this helps you some way?

LA: Yes, of course, you know, he suggests me regularly (Levon smiles). Generally, it is nice that my countryman occupies this important position. Maybe, this fact is one of the components of my successful performance (he smiles again).